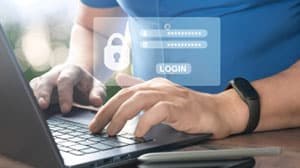 (December 12, 2022) Although organizations have been supporting remote workers for more than two years, many still struggle with remote access security. Following are some tips for countering cyber threats that you can take to reduce risk.
Remote access to IT resources is a fundamental component of remote and hybrid work models. Without robust security, however, remote access technologies also give hackers a mechanism for launching a wide range of cyberattacks. Phishing, malware, and other threats have proliferated since the COVID-19 pandemic drove a massive shift to remote work.
Require Multifactor Authentication
Don't rely on passwords alone for remote access. Industry analysts say that as many as 80 percent of all data breaches involve weak, default, or stolen passwords. Multifactor authentication (MFA) requires a combination of verification factors, such as something the user knows (a password or PIN code), something the user has (a security token or mobile app), and something the user is (a biometric identifier).
In the past, many organizations have hesitated to implement MFA because it adds a layer of complexity to the login process. However, modern, cloud-based tools are easy to use and utilize the user's mobile device as the second authentication factor.
Boost Endpoint Security
Remote workers may use a variety of devices to access network resources, which creates multiple attack surfaces. Endpoint security solutions usually consist of software loaded on a server or gateway appliance that devices access with lightweight client software. The server authenticates logins from the endpoints and updates the client software when needed.
Advanced solutions can detect zero-day threats, pattern- and behavior-based exploits, and custom malware. Best-in-class tools also feature integrated patch management and vulnerability shielding to harden all endpoints.
Consider Implementing SASE
Secure Access Service Edge (SASE) consolidates multiple network and security functions into a single cloud-delivered solution to provide robust security from the endpoint to the cloud. Security controls are maintained at the network edge, boosting performance while providing robust protection for remote users and devices. Administrators can maintain a single security policy throughout this distributed environment, ensuring that these controls are consistently applied no matter the location of users, their devices, and applications.
Update Your VPN Software
Many organizations still utilize virtual private networks (VPN) for remote access, which can create a significant vulnerability. Security analysts warn that foreign state-backed hacker groups routinely attack unpatched VPN servers to gain authentication credentials that can be used to connect to the VPN, change configuration settings and modify access privileges.
With VPNs in heavy use, many organizations figure that they can't afford the downtime required to regularly install updates and security patches. However, it is critical to ensure that VPNs are kept up to date and that new patches are installed immediately when they become available.
Upgrade Older Firewalls
A VPN creates a tunnel through the firewall to enable remote access. However, older firewalls may not verify the VPN user or check the posture of the device making the connection, potentially allowing unauthorized access. Next-generation firewalls (NGFWs) offer far more comprehensive security features for remote workers.
NGFWs support both SSL and IPSec VPN connections that encrypt data in transit. More importantly, they integrate a variety of other security features such as an intrusion prevention system, web filtering, MFA, and endpoint protection. Some NGFWs also have specialized content processors that accelerate malware scanning, encryption and decryption, attack detection, and other security processes.
Conclusion
These are just some of the security measures that can help support your remote workforce. A qualified managed services provider (MSP) can provide advice and technical services to help you reduce the risk of remote access threats.
ABOUT MAINSTREAM TECHNOLOGIES
Mainstream Technologies delivers a full range of technology services in Arkansas and the surrounding region including managed technology services and consulting, custom software development, and cybersecurity services. We also offer industry-leading data center services in our Little Rock facilities. Established in 1996, Mainstream has earned a reputation for delivering quality, reliable, and professional technology services for public and private-sector customers across the United States.
Jeff Pracht
IT Business Development Manager
(479) 715-8629 Office
(501) 529-0008 Mobile