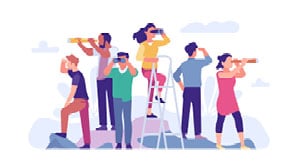 (February 22, 2022) Security solutions have long been able to detect suspicious activity, malware traits, and other warning signs of a security breach. However, today's advanced persistent threats aren't offering many clues to their existence. Increasingly complex networks and an ever-expanding attack surface make it difficult to correlate events and behaviors that could indicate an attack. Because complex cyberattacks are becoming more prevalent, threat intelligence is now an essential part of any IT security strategy.
Threat intelligence is more than information about the latest threats, and it's not a platform. It is actionable intelligence used by experts to better understand, prepare for and prevent cyber threats. The information used in threat intelligence should be specific to the organization and integrated with monitoring tools, security systems, and response procedures.
Threat monitoring continuously analyzes an organization's systems and networks against threat intelligence. Instead of relying on traditional signature defenses, threat monitoring correlates threat intelligence and network activity with contextual factors to better identify network intrusion, malicious insiders, and other threats.
The Difference Between Security Data and Threat Intelligence
Many organizations have security tools that automatically collect data from system logs, network activity, and other internal and external sources. However, that data is typically replete with false positives and "noise" that render it less reliable. It can even be detrimental if it leads to inaccurate conclusions and distracts IT resources from actual threats.
Threat intelligence is data that has been evaluated by experienced professionals. The objective of their analysis is to identify attackers, their methods, the systems being targeted, and the vulnerabilities being exploited. Through research and analysis, they can draw conclusions about the threat, the risks it creates, and what steps should be taken to minimize its impact.
Hard data is combined with sound judgment to create assumptions with varying levels of confidence. The more context, research, and evidence, the more confident the assumption. High-quality threat intelligence helps organizations improve the speed and accuracy of threat detection and prevent a breach by recognizing and acting upon indicators of attack.
Organizations can also use threat intelligence to shape security strategies and procedures. By focusing on threats specific to their organization, IT teams can make more informed decisions about security investments and prioritize remediation efforts.
The Role of Threat Monitoring
Threat intelligence has limitations, however. It can help in-house IT teams uncover indicators of compromise, but they still need context and analysis for it to add value to their organization's cybersecurity efforts.
That's where threat monitoring comes into play. It provides IT teams with greater visibility into network access and IT resource usage so they can identify potential risks. Threat monitoring also enables them to find vulnerabilities within the IT environment and better understand how to close those gaps.
Threat intelligence expands the contextual view with data from the global security community. It helps IT teams stay on top of the latest threats and apply that information against activities within their organization.
A qualified managed services provider (MSP) can help organizations maximize the value of threat intelligence. MSPs have invested in the advanced monitoring tools and training needed to increase efficiency and speed threat response. These advanced tools utilize threat intelligence to gain greater insight into changing threat vectors.
Collecting data from security tools is no longer enough. Organizations need threat intelligence combined with threat monitoring and cybersecurity expertise to gain the upper hand in combating today's complex threats.
ABOUT MAINSTREAM TECHNOLOGIES
Mainstream Technologies delivers a full range of technology services in Arkansas and the surrounding region including managed technology services and consulting, custom software development, and cybersecurity services. We also offer industry-leading data center services in our Little Rock facilities. Established in 1996, Mainstream has earned a reputation for delivering quality, reliable, and professional technology services for public and private-sector customers across the United States.
Jeff Pracht
IT Business Development Manager
(479) 715-8629 Office
(501) 529-0008 Mobile