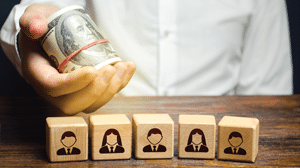 (November 2020) Almost all businesses today depend on technology to one degree or another. Getting — and keeping — the manpower and expertise required to support that technology can be extremely challenging. If you've ever tried to fill an IT position, then you are familiar with the true cost of hiring in-house IT staff.
The global scarcity of qualified IT labor remains a persistent problem. The U.S. Bureau of Labor Statistics (BLS) estimates there are roughly 1 million IT job openings without qualified college graduates to fill them. Even if you're fortunate enough to recruit qualified candidates, you probably won't keep them for long. IT has the highest turnover rate among all industry sectors at 13.2 percent and having an IT staff of one could significantly put your company at risk.
Replacing IT staff can be a very expensive process. The Society for Human Resource Management (SHRM) estimates the average replacement cost to be roughly equivalent to six to nine months' salary. That's approximately $35,000 to $52,000 in additional costs for an employee earning $70,000 per year. These costs include advertising, recruiting, screening, interviewing, and onboarding. There's also an element of lost productivity while the new employee is getting up to speed in their new job.
The Managed Services Advantage
In almost any scenario, a managed services arrangement is a far more cost-effective way to gain access to the expertise, skillsets and intellectual property organizations need to support their technology environment. For a predictable monthly commitment, your business essentially gains access to an experienced group of IT professionals with a broad range of skills.
To fully appreciate the cost benefits of managed services, let's look at some of the typical expenses you can expect to incur when hiring a full-time IT support engineer. According to the BLS, salary represents only about 70 percent of the true annual compensation for a full-time employee.
The real annual cost of an engineer with a $70,000 base salary would be about $100,000. The additional costs include:
·         Insurance. An employer's cost for providing health, disability, and life insurance represents 8 percent of total compensation or about $8,000 per year.
·         Legally required benefits. Unemployment insurance, Social Security, Medicare, and workers' compensation expenses command 7.6 percent of annual compensation or $7,600 per year.
·         Paid leave. Vacation days, holidays, sick days, and personal days account for about 7.3 percent of an employee's total compensation, or roughly $7,300 per year.
·         Supplemental pay. Overtime pay, shift differentials, and bonuses will be about 3.5 percent of annual compensation, or about $3,500 per year.
·         Retirement and savings. 401(k) contributions, administrative fees, and miscellaneous fees for investment advice and consulting are about 3.6 percent of annual compensation or $3,600 per year.
Other Expenses
There are many other expenses that don't map directly to employee compensation figures. Training represents a significant investment. According to the 2019 Training Industry Report from Training magazine, companies spend roughly $1,300 per employee on training and onboarding.
Beyond this initial training expense, IT staffers typically require ongoing training. A variety of industry certifications are offered to help IT professionals gain knowledge and expertise. Depending on the certification, costs can range from hundreds to thousands of dollars. Making time for training is always a challenge in the IT industry. Whether in-person or self-study, training requires a significant investment of time that many small in-house IT staff are unable to fit into their already busy schedules.
New IT staffers will also require computers, phones, and software. Prices can vary widely, but you can figure on at least $1,000 for a PC, $300 for a desktop telephone, and $700 for a smartphone. Software licenses could cost up to several thousand dollars, depending on the job requirements.
You can eliminate expenses associated with the true cost of hiring in-house IT staff by using a managed IT services subscription.  Managed IT services give you access to a greater range of skills with around-the-clock availability. Give us a call to discuss the many other ways our managed services offerings can deliver value to your organization.
ABOUT MAINSTREAM TECHNOLOGIES
Since 1996, Mainstream Technologies (www.mainstream-tech.com) has established itself as one of the most respected technology companies in Arkansas with headquarters and data center facilities in Little Rock, and sales offices in Conway and Bentonville.  Mainstream's full range of technology services includes IT Management and Consulting, Custom Software Development, Cyber Security, and Data Center Services.  Our team of experienced technology professionals serves public and private sector customers across the United States.
Jeff Pracht
IT Business Development Manager
(479) 715-8629 Office
(501) 529-0008 Mobile