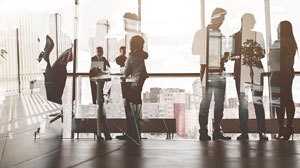 Many organizations have an in-house IT staff who provide IT administrative tasks in addition to their other duties. If you have an in-house IT staff, do you need a partnership with a technology provider?
The answer is an unequivocal "yes." A partnership with a technology provider creates a platform of shared responsibility for today's complex network management duties while keeping an eye on the future. It creates an environment that today's IT services are being handled, while tomorrow's business alignment initiatives are also being addressed.
Mainstream Technologies is an Arkansas technology provider that can either take full responsibility for all of your technology issues or work in partnership with your in-house IT staff. Mainstream offers network management services and solutions that can fill support gaps and ensure that a technology environment is secure, reliable, and performing optimally.
Partnering with Mainstream for network management involves identifying specific requirements and assigning them to either in-house staff or to Mainstream. For example, some organizations keep user support requests in-house and rely on Mainstream for proactive maintenance and resolving more complex issues, while others use in-house staff to perform software updates and outsource infrastructure support, security monitoring, and incident response to us.
The Benefits
Organizations of all sizes can take advantage of IT service partnerships to transform their business alignment initiatives and improve operations. Utilizing a technology provider is often more affordable than retaining and keeping full-time IT specialists trained. Mainstream's staff will have up-to-date training and experience in a wide range of network environments.
A partnership with Mainstream Technologies not only reduces the risk of business disruption but if they do occur, we have the skills to troubleshoot and resolve them rapidly.
Does a partnership pose a risk to in-house staff?
No! Our role is to improve the network environment, not displace full-time staff. In-house IT staff benefits by having access to our diverse skill sets and experience. Together, we share the responsibility for technical support which relieves stress for the entire team and streamlines operational processes.
Mainstream has the resources to take on routine administrative tasks that enable in-house personnel to focus on strategic business alignment initiatives that offer the potential to improve user experience and differentiate the organization in the marketplace.
ABOUT MAINSTREAM TECHNOLOGIES
Mainstream Technologies is a Little Rock, Arkansas-based technology provider that offers managed technology services, technology consulting, custom software development, data center, and cybersecurity services. Established in 1996, Mainstream has earned a reputation for delivering quality, reliable, and professional technology services for public and private-sector customers across the United States.