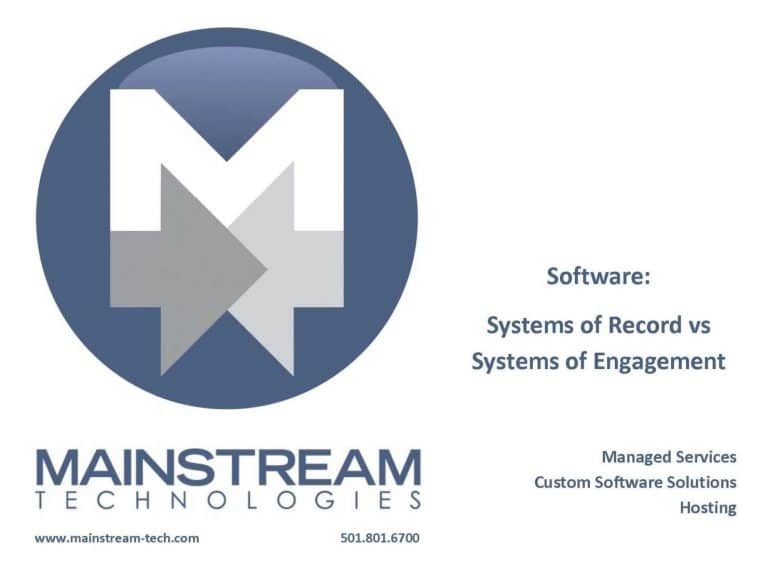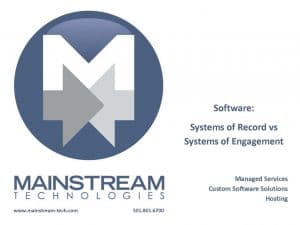 The applications we use to operate our businesses can be divided into two categories; Systems of Record and Systems of Engagement.
Systems of Record
Systems of Record are the enterprise level applications that run our business (financials, manufacturing, CRM, HR). They must be stable and provide a 360° view of the business. These systems are process oriented and are the repository for the information we need to make prudent fact based decision.
Systems of Engagement
Systems of Engagement are people-focused applications that are designed to equip and enable customers, partners and employees with the tools they need to interact with the business. Systems of Engagement overlay and complement Systems of Record and harness any number of technologies including mobile, social, cloud and big data innovation.
They give us the ability to win, serve and retain customers through exceptional digital experiences delivered where


they work and live. In the age of the customer, businesses are reallocating more resources than ever before to improve their Systems of Engagement to meet the needs, goals and ambitions of their customers. We've even found that some Systems of Engagement, as they mature, can evolve into de facto Systems of Record.
Reasons for change
As businesses grow, many find themselves in the position that their applications don't fit their needs as well as they once did. There are any number of reasons for this. They can range from increased reporting needs in the System of Record to a new service offering that isn't accounted for in the engagement systems.
The most common reasons stakeholders consider modernizing a System of Record are:
Improving the availability of skilled support resources who are versed in their new technology platforms, or
Improving the user experience (UX), or
Adding new features to automate manual processes, or
Adding analytics and business intelligence capabilities, or
Reducing operating costs for aging technology, or
Reducing support costs.
Businesses build Systems of Engagement with the customer in mind. Web services, mobile, analytics, CRM, and loyalty programs are all examples and since they're customer-centric they must continually evolve to improve customer experience. The most common reasons Systems of Engagement are changed are:
Customer behavior shifts, or
New opportunities arise, or
The user experience gets stale, or
The business's needs expand or shift, or
New technologies/platforms emerge and old ones sunset.
If you need to replace or add features to your application suite, our article "Buy, Build or Customize" provides a high level overview of how you can approach updating your software suite to meet business challenges.
Mainstream Technologies is a Little Rock, AR IT service firm. We offer custom software development, managed IT services, cybersecurity services and data center solutions. If you would like to speak to someone who can help you maximize your technology investment, click here to send us an email.
##