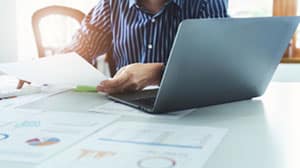 (November 15, 2022) Small to midsized businesses (SMBs) are often hit the hardest during economic downturns. With constrained cash flow, unpredictable revenues, and limited access to capital, SMBs typically look for ways to reduce spending while waiting for the economic environment to improve.
At the same time, however, there is evidence that strategic IT investments help SMBs thrive amid economic uncertainty.
In its research of spending trends following recent downturns, Techaisle found that SMBs tend to retrench and reduce overall spending. But they also shift their focus to technologies that offer immediate benefits and build long-term business resilience — positioning them to survive and outperform their competitors.
After the global recession from 2008 to 2010, SMB year-over-year IT spending growth was 1.5 times higher than overall IT spending growth. After the 2015-2016 "mini-recession," SMB IT spending growth was four times the overall growth rate.
Past performance doesn't guarantee future results, but it does provide some insight. In those previous downturns, SMBs that were resilient enough to shift IT investments to technologies that could reduce costs, boost productivity and improve agility emerged in great shape to expand their market reach.
Effective Investments
These results are confirmed by a national study and economic analysis recently published by the U.S. Chamber of Commerce. Conducted by Teneo, the study found that technology helps SMBs increase operational efficiency, enhance customer relationships and achieve faster growth. Because of these benefits, SMB owners plan to make additional tech investments in the short term, with 63 percent evaluating advanced technologies such as artificial intelligence.
According to a recent Verizon study, 44 percent of SMB decision-makers are worried about supply chain issues and 35 percent are concerned about inflation. However, only 29 percent have reduced or plan to reduce technology investments. More than half (56 percent) feel confident they will be in a better position next year, primarily because of technology.
Nevertheless, lack of capital and rising interest rates are a concern for many SMBs. That's why it makes good business sense to partner with a managed services provider (MSP) when developing a technology budget and investment strategy. Qualified MSPs can provide valuable insight into which technologies deliver the greatest return on investment.
Optimizing the IT Budget
MSPs can also help SMBs leverage cost optimization to conserve capital while still funding mission-critical projects:
Consolidation and Modernization. Many organizations have underutilized and redundant systems and services that can be consolidated for cost savings. Additionally, organizations often spend a huge chunk of their tech budget to support aging, inefficient IT infrastructure that's ripe for modernization.
Total Cost of Ownership Analysis. By evaluating all the direct and indirect costs of existing IT resources, a TCO analysis can uncover cost savings that enable organizations to fund projects. Newer equipment may provide greater efficiencies while eliminating the need for costly maintenance contracts on outdated gear.
Software License Optimization. Problems with license compliance, duplication, or expiration can lead to crippling fines, fees, and costs. MSPs use a variety of automated and manual solutions to help organizations remain in compliance, eliminate duplicate or unneeded licenses, and identify volume purchasing opportunities.
Budget issues are leading organizations to rethink their IT spending priorities, but they needn't force them to abandon mission-critical investments. Ongoing technology improvements help build operational efficiency and are essential for long-term resiliency. The right MSP can help SMBs identify technology investments and budget conservation strategies that keep the business on track.
ABOUT MAINSTREAM TECHNOLOGIES
Mainstream Technologies delivers a full range of technology services in Arkansas and the surrounding region including managed technology services and consulting, custom software development, and cybersecurity services. We also offer industry-leading data center services in our Little Rock facilities. Established in 1996, Mainstream has earned a reputation for delivering quality, reliable, and professional technology services for public and private-sector customers across the United States.
Jeff Pracht
IT Business Development Manager
(479) 715-8629 Office
(501) 529-0008 Mobile