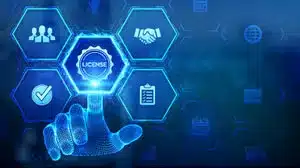 (February 17, 2023) Understanding and managing the contractual obligations of software licenses is not a job that can be taken lightly. Duplicate, underutilized and unused licenses waste IT budget dollars that could be allocated to new initiatives. Software license management reduces cost and risk
In an analysis of 6 million endpoint devices, Nexthink found that roughly half of all licenses for 30 popular software tools are not being used. Taking an average cost for these licenses, the company estimates that organizations are wasting almost $45 million a month.
Problems with license compliance and expiration can also be financially devastating. Licenses set limits on software installation and use, and most major software providers conduct regular audits to identify noncompliance. Organizations that have installed more instances of the software than the license allows can be hit with "true up" fees as well as penalties. True-up costs can range from thousands to millions of dollars, depending on the size of the company.
A managed services provider (MSP) can help limit the risk. A qualified MSP will use a variety of tools and techniques to identify software license problems, and implement best practices to help ensure that the organization remains in compliance. The MSP can also deliver tangible financial benefits by eliminating license duplication and identifying volume purchasing opportunities.
Software License Challenges
Organizations once used manual, spreadsheet-based processes to track their software purchases and licensing, but that's just not practical anymore. In the mobile and remote computing era, users frequently download apps to their devices and sign up for cloud-based solutions, often without the knowledge of IT or management. In the Nexthink survey, just 5.5 percent of IT leaders said they have "complete visibility" into what applications employees are actively using.
In addition, software licenses often involve complex calculations for virtual machines, virtual desktops and the number of processor cores. IT professionals often struggle with software licensing management because of license agreement complexity and the time required to ensure their environment is in compliance. The increased complexity of the overall IT environment, including the challenges associated with a distributed workforce and BYOD, also makes it difficult to reconcile what's installed with what's actually being used.
Overallocation of licenses is another problem. Organizations often take a one-size-fits-all approach to license purchases that gives many users more software than they need while leaving some "power users" with inadequate resources. A failure to set clear standards can also lead to excess license purchases. The Nexthink survey found that 37 percent of employees use three browsers and almost 40 percent use two or more collaboration tools.
Getting the Most Value
Optimizing software configurations is one of the first steps an MSP can take to cut spending. Software from large publishers has complex use rights, and the default configuration is normally the most expensive. For example, a server application can often be automatically set to enable all premium features. If such features aren't necessary, the MSP can identify that during an assessment and change the configuration.
An MSP will also look for opportunities to recycle licenses. This is the recovery of unused license rights for distribution to other users to eliminate the need for new license purchases. Identifying unused, underused or misused software gives organizations the ability to reduce software spending as well as support and maintenance costs. Qualified MSPs can also help organizations take advantage of enterprise license agreements to save money, streamline procurement and simplify license management.
Organizations often think they are becoming less dependent on software as they transition to virtualized and cloud-based platforms, but that's just not the case. Software still drives business, and license management has become an essential IT discipline. Mainstream Technologies has the expertise, methodology and tools to help you reduce the risk, cost and complexity of software license management.
ABOUT MAINSTREAM TECHNOLOGIES
Mainstream Technologies delivers a full range of technology services in Arkansas and the surrounding region including managed technology services and consulting, custom software development and cybersecurity services. We also offer industry-leading data center services in our Little Rock facilities. Established in 1996, Mainstream has earned a reputation for delivering quality, reliable, and professional technology services for public and private-sector customers across the United States.
Jeff Pracht
IT Business Development Manager
(479) 715-8629 Office
(501) 529-0008 Mobile