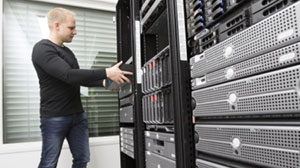 (May 11, 2022) Many organizations are opting to outsource data center services to a third-party provider. Outsourcing often makes good financial sense and can provide a more resilient and secure environment for the corporate IT infrastructure. However, choosing the wrong data center hosting provider can be costly and create significant business risk. Here are six questions to ask when evaluating data center hosting providers.
Does the data center have built-in redundancy?
One of the most significant weaknesses of in-house data centers is a lack of redundancy. Qualified hosting providers have backup power, cooling, and connectivity resources to reduce the risk of business-crippling downtime. The variable "N" is typically used to denote the essential services required to support a data center. "N+1" means that there is one additional component as a backup for a particular resource, while "2N" refers to full redundancy with no single point of failure. More redundancy means greater resilience.
How many WAN service provider options are available?
Redundant WAN connectivity protects against downtime, but ideally, customers will have multiple WAN services to choose from, including direct interconnections with major cloud providers. This enables customers to select the features they need at the best price point for their budget without having to negotiate separately with each WAN service provider.
Does the data center facility have strong physical security?
When most organizations think of cybersecurity, they think of firewalls, antimalware, and other logical controls. But physical security of the data center is also important. The facility should have a secure perimeter, 24×7 video surveillance, and strict access controls. The hosting provider should conduct background checks on all personnel. An appointment should be required to visit the facility, and visitors should be escorted at all times by data center personnel.
Has the data center obtained any certifications?
Certifications provide customers with a verifiable assessment of the data center's reliability, security and privacy standards. For example, the SOC 2 (Service Organization Control) certification provides insight into the hosting provider's capabilities in the five "trust principles" of security, availability, processing integrity, privacy, and confidentiality. The MSPAlliance Cloud Verify Program is based on 10 control objectives that an independent auditor uses to document and validate the provider's processes.
Where is the data center located?
It often makes sense to choose a data center hosting facility that's fairly close to company headquarters. That way, in-house IT personnel can tour the facility prior to making a decision, and gain physical access to the company's IT equipment if needed. Additionally, a local provider will likely offer more personalized service than a large, hyper-scale provider. Of course, the data center should be located in a secure area that's protected as much as possible from natural disasters.
What IT services does the hosting provider offer?
Some data centers are "lights out," meaning that they don't have onsite IT staff. Others offer "remote hands" capabilities in case a server needs to be rebooted or a cable reconnected, or "smart hands" services that are more advanced. Best-in-class providers offer fully managed hosting services, in which the provider's dedicated IT team takes on the monitoring and management of the customer's hosted IT infrastructure.
Datacenter hosting can be a cost-effective alternative to onsite IT infrastructure. However, it's important to partner with a hosting provider that can deliver high levels of resilience and security along with a variety of connectivity and service options. These six questions offer customers a valuable starting point for evaluating data center hosting providers.
ABOUT MAINSTREAM TECHNOLOGIES
Mainstream Technologies delivers a full range of technology services in Arkansas and the surrounding region including managed technology services and consulting custom software development and cybersecurity services. We also offer industry-leading data center services in our Little Rock facilities. Established in 1996, Mainstream has earned a reputation for delivering quality, reliable, and professional technology services for public and private-sector customers across the United States.
Jeff Pracht
IT Business Development Manager
(479) 715-8629 Office
(501) 529-0008 Mobile