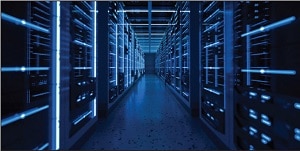 Rethinking the Data Center
Mainstream's Data Center solutions offer a secure,
reliable, and cost-effective alternative
to on-premises data centers and public cloud.
With IT budgets under scrutiny, more organizations are rethinking the data center. In-house data centers can be multi-million-dollar investments depending on the size, location, and function of the facility. Years of continually adding servers, storage, and networking gear to meet evolving business needs translate to large, complex IT infrastructures with high operational costs.
"Businesses worldwide are shifting production workloads to the public cloud to avert some of these costs, but that's not always practical. Many companies have workloads they'd like to keep on privately owned systems for security reasons," said Mark McClelland, co-founder, and VP of IT, Mainstream Technologies. "Managed data center services that strike a balance between cost and privacy are frequently a better option."
In this model, a managed services provider (MSP) delivers essential infrastructure while also assuming responsibility for most administrative and management functions. Companies can choose whether to place their own hardware in a colocation facility or they can rent servers and infrastructure in a dedicated hosting facility. Either way, they offload much of the cost and complexity of operating a data center in order to focus on core competencies.
COUNTING COSTS
According to Uptime Institute benchmarks, the costs of constructing an in-house data center can easily reach $3.8 million for a 500-square-foot on-premises facility that would accommodate up to 16 racks of equipment.
RETHINKING THE DATA CENTER
Mainstream's hosted solutions offer a secure, reliable, and cost-effective alternative to on-premises data centers and the public cloud.
In addition to the initial real estate, design, permitting and construction costs, there are significant recurring expenditures for hardware, software, networking, staffing, security, power and cooling, and property taxes. Ongoing modernization requirements add up as well. Servers and other gear typically must be replaced every five years, and Gartner analysts say installing, maintaining, and managing that hardware can be three times the acquisition costs.
"Keeping up with bandwidth demands can be another operational challenge," said McClelland. "Data centers today need to support steady increases in network traffic with redundant interconnects to ensure continuity of operations. The remote workforce is highly dependent on reliable and secure connectivity to facilitate collaboration. All of that can be bandwidth-intensive."
It is difficult to anticipate these demands when building an onsite data center. Overbuilding to accommodate potential future requirements could waste resources, but underbuilding can force expensive expansion projects down the road. For example, installing additional fiber to increase bandwidth can cost more than $10,000 per mile, a cost not all internet providers are willing to bear.
Scalability limitations and increasing operational costs are among the factors leading more organizations to consider the public cloud as an alternative. Public cloud IT infrastructure spending exceeded on-premises infrastructure spending for the first time in 2020, according to IDC analysts.
But the public cloud is neither an entirely cost-effective nor secure solution. More than a third of IT executives in one recent poll listed unpredictable costs as a top issue with cloud usage, while a separate poll found that 92 percent of IT pros worry they are vulnerable to a misconfiguration-related cloud data breach.
A BETTER WAY
A managed data center arrangement with Mainstream Technologies addresses many of these issues with customizable service plans that cover hardware installation and maintenance, power and cooling needs, telecommunication connections, and rapid scaling and deployment of new services to meet dynamic business demands. Other key benefits can include:
Improved connectivity. Enterprise-grade bandwidth with the option to contract with additional providers for redundant connectivity.

Reliable power. N+1 redundancy, also called parallel redundancy, which means there are uninterruptible power supply (UPS) systems and backup power generation in place to make sure that customers' servers are always available.

Advanced climate control. Advanced liquid- and air-cooling systems to help prevent servers from overheating, and industrial-grade ventilation systems to ensure proper air exchange.

Redundant infrastructure. Multiple layers of redundancy at the compute, storage connectivity and facilities levels ensure resilience and high availability.

Support services. "Remote hands" services that cover basic tasks such as rebooting a server, reconnecting cables or responding to alerts, as well as "smart hands" services for more complex tasks such as server provisioning or configuration changes.
"We also offer our customers robust disaster recovery capabilities through our data center," said McClelland. "We are SSAE-16-compliant with N+1 redundancy and full failover capabilities. We also provide multiple layers of physical security and are compliant with stringent government and industry regulations."
Rethinking the data center highlights the fact that owning and operating an on-premises data center is a costly and complex undertaking. Today, with remote workers dependent on reliable network access and bandwidth-intensive communication and collaboration apps, organizations simply can't afford to take any chances with their IT infrastructure. Mainstream's flexible hosting options deliver secure, consistent, and cost-effective data center services for organizations looking to rethink their data center investment.
If you would like to learn more, please send us an email.