Endpoint management essential for supporting the remote workforce.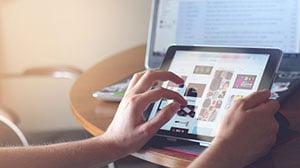 (January 22, 2021) With many companies more dependent on the remote user, the effective management and security of endpoint devices such as desktops, laptops, tablets, and smartphones is a top IT concern.
"Endpoint management is getting more attention as companies have implemented work-from-home policies," said Mark McClelland, Vice President of IT, Mainstream Technologies. "Employees are more frequently accessing corporate resources using personally owned devices. Lack of device manageability creates a blind spot for IT in terms of security and data loss prevention."
With remote work likely to remain a fixture in the business landscape for the foreseeable future, industry analysts say unified endpoint management (UEM) solutions have become increasingly essential. UEM solutions give businesses the ability to provision, manage and secure remote endpoints across a distributed workforce.
Simplified Management for a Complex Environment
It was only a few years ago that organizations debated whether to allow employee-owned mobile devices to access the corporate network. Today, those devices are critical tools for millions of workers.
A SANS Institute study finds that it's not uncommon for organizations to have more than 1,000 endpoints, with many lacking insight into the exact number. Finding the right endpoint management solution is challenging due to variations in device types and operating systems.
Rapid growth in the number of endpoints creates a significant IT management burden. Endpoints must be discovered, maintained with firmware updates, updated with security patches, deactivated if lost or stolen, and safely retired at end-of-life.
UEM solutions provide improved visibility by orchestrating the functionality of numerous management tools, including mobile device management (MDM), mobile application management (MAM), and mobile content management (MCM). Available as on-premises software, cloud-based services, or hybrid solutions, UEM solutions perform the following essential functions:
Configuration, management, and monitoring across a broad range of devices and operating systems, including Android, iOS, macOS, and Windows 10.
Standardization of application configurations and management profiles across all devices.
Consistent application of security settings including identity management, device compliance, and data protection policies.
Centralized insight into multi-device users, which helps provide more efficient end-user support and detailed analytics.
Business and User-Friendly Features
UEM solutions not only help relieve some of IT's management burden, but they make life easier for the remote user as well. Because they work with all operating systems and device manufacturers, UEM solutions help ensure remote users can work with their preferred devices.
UEM also features "dual persona" technology. This approach keeps personal data isolated from corporate data on the device. Additionally, this feature allows IT to selectively remove company data from devices while leaving personal data intact.
UEM solutions boost device security by detecting anomalies and ensuring policy compliance. In the event of suspicious activity such as unusual data usage patterns or the unexpected installation of a software update, the endpoint can be automatically quarantined.
"Endpoint management presents unique challenges given the variety of devices, applications and operating systems used in modern devices." McClelland said. "UEM solutions that enable centralized visibility and management can help keep remote employees productive, mitigate the risk of data leakage, and improve an organization's overall security posture.
ABOUT MAINSTREAM TECHNOLOGIES
Mainstream Technologies delivers a full range of IT services in Arkansas and the surrounding region including managed IT services and consulting custom software development, and cybersecurity. We also offer industry-leading data center services in our Little Rock facilities. Established in 1996, Mainstream has earned a reputation for delivering quality, reliable, and professional technology services for public and private-sector customers across the United States.