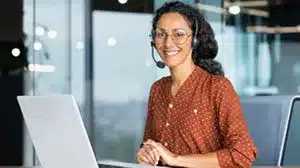 (April 26, 2023) IT staffers are among the unsung heroes of remote and hybrid work models, providing remote user support that enables employees to work from home. IT's ability to remotely resolve software issues, hardware failures, connectivity problems and more is instrumental in keeping many organizations operational.
However, the rapid transition to remote work has placed a strain on many in-house IT teams. In addition to regular monitoring, maintenance, patching, and upgrading, IT must field requests from work-from-home employees using a wide range of devices. If IT staff can't access those devices remotely, they must walk users through troubleshooting and resolving problems. It's a time-consuming and frustrating exercise for both IT and the user.
A managed services provider (MSP) can relieve the burden. Qualified MSPs have invested in remote monitoring and management tools that allow them to troubleshoot and resolve problems. The MSP's support staff will have expertise in a wide range of devices, enabling them to identify the root cause of issues quickly.
Delivering Value
Small to midsize businesses (SMBs) sometimes hesitate to outsource user support. They may feel that in-house IT staff can deliver a better user experience and ensure that critical support requests are prioritized. However, remote work has turned that upside down. An MSP is typically in a better position than in-house IT staff to deliver prompt support. Additionally, the right MSP will take time to understand your business priorities and establish service-level agreements appropriate to each type of support request.
Cost is another factor. Hiring in-house staff might seem more cost-efficient than outsourcing to a third-party provider. However, the median salary of a computer support technician is about $58,000, according to the Bureau of Labor Statistics, and the full cost of that hire will be $72,500 to $81,200. One technician might not be able to provide adequate support depending on the number of users and complexity of the IT environment.
MSPs typically offer a fixed-price model that emphasizes proactive management. SMBs gain a more stable environment and predictable IT support budget.
What to Look For
While the value of the MSP support model is proven, it's important to select the right provider. Here are some key questions to ask:
Is unlimited support included in the plan? Unlimited support means your budget remains the same no matter how often users call the help desk. Qualified MSPs can offer unlimited support because they have optimized the environment to minimize issues.
Does the MSP have the depth of expertise and availability to meet your business demands? Ensure that the MSP can handle all the systems, devices, and applications in your environment and be available whenever users need support.
Has the MSP invested in remote monitoring and management tools? Remote monitoring and management are essential to the efficient delivery of support.
Is onsite support included? Some issues require onsite support. Ask if there is an additional charge for this service.
Does the MSP use in-house staff or outsource support? Smaller MSPs may partner with larger providers to deliver support, and in some cases, the outsourced support team may be offshore. Local technicians who understand your business can provide a better experience.
Remote work enjoys mainstream acceptance, but supporting work-from-home users can be a significant challenge for in-house staff. Partnering with a qualified MSP such as Mainstream can help ensure that your team remains efficient and productive while keeping a lid on costs.
ABOUT MAINSTREAM TECHNOLOGIES
Mainstream Technologies delivers a full range of technology services in Arkansas and the surrounding region including managed technology services and consulting, custom software development, and cybersecurity services. We also offer industry-leading data center services in our Little Rock facilities. Established in 1996, Mainstream has earned a reputation for delivering quality, reliable, and professional technology services for public and private-sector customers across the United States.
Jeff Pracht
IT Business Development Manager
(479) 715-8629 Office
(501) 529-0008 Mobile