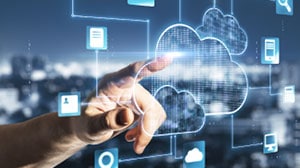 (August 26, 2021) Cloud adoption continues to accelerate as organizations seek to capitalize on the agility and innovation afforded by cloud platforms. Most organizations are taking a multi-cloud approach, deploying combinations of public and private clouds to meet specific business and IT requirements.
According to the Flexera 2021 State of the Cloud Report, a whopping 92 percent of enterprises have implemented a multi-cloud strategy. That's up from 68 percent when Flexera first published its annual report in 2012. As organizations continue to refine their cloud strategies, they are finding that one size does not fit all when it comes to cloud services.
Cloud infrastructure might seem generic and interchangeable, but every cloud platform has distinct characteristics. The multi-cloud model gives organizations the best of all worlds, mitigating risk and providing the greatest return on investment (ROI). Organizations can better leverage the cloud to drive innovation and support digital transformation while enhancing security, flexibility, and performance.
What Is Multi-Cloud?
A multi-cloud strategy involves the use of two or more cloud services from multiple cloud providers, often in combination with one or more private clouds. This is different from a hybrid cloud, which integrates a public and private cloud into a common infrastructure with a single management plane. In a multi-cloud environment, each cloud is used and managed separately.
Management challenges aside, the multi-cloud approach offers significant advantages. Instead of being tied to a single service provider, organizations can take advantage of the strengths of specific cloud platforms to gain better outcomes than a single, multipurpose cloud platform.
While performance might be more important for one use case, security and data governance might be the top priority for another. Organizations can draw from a rich set of cloud resources to meet diverse needs without unnecessary compromise or tradeoffs.
Multi-Cloud Benefits
A key benefit of the multi-cloud model is geographic diversity. Organizations can choose cloud data centers that are closest to end-users to minimize latency and improve application performance. They can also determine where data is to be stored to meet business, legal and regulatory requirements for data sovereignty, residency and localization.
Geographic diversity also facilitates business continuity. Most cloud providers promise at least 99.5 availability, but that translates to 1.825 days of downtime annually. In 2021, several major cloud outages resulted in average downtime of nearly two hours per incident, with an average cost of nearly $200,000. Distributing workloads across multiple clouds reduces the risk significantly.
A multi-cloud environment that includes both public and private cloud infrastructure can also improve data security and privacy. The most sensitive data and workloads are kept in a private cloud, while other applications are run on cost-efficient public cloud platforms.
Avoiding Vendor Lock-In
The cloud would seem to give customers a great deal of autonomy, but vendor lock-in is a significant problem. Cloud providers make it easy to move workloads to their platforms, but structure pricing such that it can be costly to expatriate data. If workloads depend heavily on the underlying cloud infrastructure, migration to another cloud can be complex to the point of impractical.
A multi-cloud approach gives organizations greater flexibility to mix and match vendors and platforms to avoid vendor lock-in. Workloads are placed according to best practices, and performance is not tied to a particular service.
This is not to suggest that multi-cloud is simple. Organizations must monitor and maintain multiple cloud environments with separate management tools. This makes it difficult to optimize costs and resource utilization, and integrate with other IT and business systems.
Nevertheless, multi-cloud is clearly the preferred approach for many organizations. By spreading workloads across multiple cloud providers, organizations can better address requirements for performance, reliability and security and gain a greater ROI.
ABOUT MAINSTREAM TECHNOLOGIES
Mainstream Technologies delivers a full range of technology services in Arkansas and the surrounding region including managed technology services and consulting custom software development and cybersecurity services. We also offer industry-leading data center services in our Little Rock facilities. Established in 1996, Mainstream has earned a reputation for delivering quality, reliable, and professional technology services for public and private-sector customers across the United States.