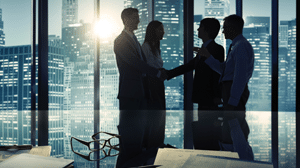 (November 2020) Managed services arrangements allow organizations to offload some of their technology management burden in order to improve operations and control spending. However, that doesn't begin to cover all the benefits a managed services provider (MSP) can deliver.
One of the most valuable, yet underappreciated, functions performed by MSPs is third-party vendor management. By serving as a liaison between customers and technology vendors, an MSP can ensure better execution of new technology implementations and troubleshooting of issues while saving considerable time, money, and frustration.
Most organizations today have a technology environment built on hardware and software from dozens of different vendors. Efficiently managing those relationships has become a monumental administrative and operational challenge. In a recent Ivanti survey of more than 1,300 IT professionals, 48 percent reported they spend weeks or months each year dealing with vendor contract and warranty issues.
Inadequate Support
Vendor management can be particularly challenging for small to midsized businesses (SMBs) that lack the clout of large enterprise organizations. Big businesses are high-volume technology buyers, and their issues naturally get the attention of their vendors. Very often, vendors will even have dedicated representatives assigned to their enterprise customers. When problems arise, the vendor's technical resources work directly with in-house IT staff to provide support and troubleshoot the issue.
SMBs generally don't need that level of attention. When problems do arise, however, vendor interactions often prove to be frustrating. Vendor reps who focus on SMBs are typically spread thin and have little insight into their customers' specific needs. Seeking support often becomes a time-consuming exercise in frustration, with multiple emails and phone calls getting cycled through a call center — often without effective resolution.
In a recent Forrester Consulting survey, 44 percent of SMBs said they are not satisfied with the support they receive from technology vendors mainly because customer service representatives do not understand their needs.
In multivendor environments, it can be exasperating to even determine where to turn for help. For example, most networking environments will comprise servers, routers, switches, and gateways from different vendors. When problems occur, it can be difficult to isolate the root cause. That can lead to finger-pointing among vendors, which just wastes everyone's time.
One Throat to Choke
A qualified MSP such as Mainstream Technologies can eliminate such frustrations by providing a single point of contact for problem resolution. We provide the first line of support, isolating the root cause of issues and troubleshooting most problems — often without the need for vendor intervention. If support escalation is required, we will communicate directly with the vendor to resolve issues covered by warranties or maintenance agreements.
Many vendors also have partner programs that include technical assistance for MSPs. For example, some of our vendor partners give us access to special services and better support options that aren't always offered directly to SMBs.
Unlike individual hardware and software vendors, your MSP will also have more in-depth knowledge of your unique technology environment and operational requirements. As such, we can customize service offerings to meet your precise needs.
Fast and efficient problem resolution is the key to minimizing business-disrupting technology issues. As your advocate, Mainstream Technologies can help ensure that key vendors respond in a timely fashion to meet your service and support needs. Give us a call to learn more.
Jeff Pracht
IT Business Development Manager
(479) 715-8629 Office
(501) 529-0008 Mobile