Every organization is threatened with malware threats daily.  This isn't going to change anytime soon.  A layered cybersecurity strategy can combat these attacks, maximize protection, and keep costs under control.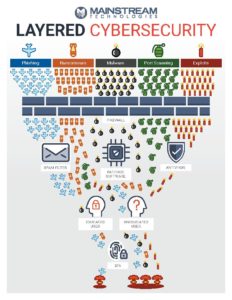 What we need to understand is that no single tool or policy can adequately defend against every type of malware threat.  A variety of tools and approaches is essential to protect an organization.   Since there are so many tools out there, it's easy to buy one that isn't needed or underutilize the tools you do have.
Knowing the function and role of each potential tool is essential for a cost-effective and comprehensive cybersecurity strategy for addressing malware threats.
Layered Cybersecurity Strategy Tools
Firewalls

Designed to keep the malware out
Cost Range – Firewall as a Service – $70-$270 month

Email Protection – SPAM, Encryption, etc

Spam Filter, Encryption, etc
Cost Range – $1.50~ per address per month

Browsing Protection to keep users from going to bad websites

Cost Range – $3.50/device/month

Brute Force Protection – Once the bad guy targets you

Multi-factor Authentication

Cost Range – $2.50/user/month

Password Manager

Cost Range – $0-$3/user/month

Vulnerability Scanning

Cost Range – $10/user/month

Human

Workforce Education
Cost Range – $2.50/user/month

Detection

SIEM, FIM
Cost Range – Call for pricing
Resources:
Block by Block: A Layered Approach to Cybersecurity – Live Event Recording
If you would like more information about how to address malware threats, please send Sara an email, by clicking this link.