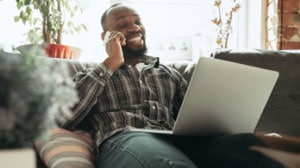 (July 2020) Organizations have done an extraordinary job of overcoming the technical and logistical obstacles involved in the abrupt shift to work-from-home operations. Despite these successes, significant challenges remain. Whether remote work is a stop-gap measure until the pandemic subsides or a more permanent operational shift, companies must have a plan for effectively supporting a remote workforce.
Managed services providers (MSPs) play a key role in the implementation, security, and ongoing support of remote worker solutions. As a valuable adjunct to in-house IT resources, MSPs can help ensure that your remote workers remain efficient and productive while safeguarding your important data.
Rethinking Conventional IT Support
Few organizations were sufficiently prepared for the challenges of supporting a rapidly growing remote workforce until it became a necessity. Up to then, IT support processes were primarily designed to meet the needs of employees working in a company-provided office space using technologies owned, managed, and supported by the company.
Hastily developed remote work processes created immediate challenges for employers and employees alike. Employees were required to quickly adapt to utilizing new or different equipment and procedures for accessing network resources. Employers, meanwhile, had to figure out how to provide secure and reliable network access to employees using a variety of devices and Internet connectivity that sometimes didn't meet corporate standards for performance or security.
The Mainstream Advantage
Mainstream Technologies allows our customers to offload such challenges through our affordable managed services offerings. Our highly trained and experienced staff provides support from infrastructure to the desktop. Here are a few of the ways we can support a remote workforce:
Virtual private networks. VPNs are essential tools for allowing remote employees to connect to the company network safely, but those who had never worked remotely before the pandemic are often unfamiliar with the technology. We provide guidance on implementing VPN solutions that best align with the needs of your remote workers and configuring authentication and permissions to safeguard data and identities.
Remote monitoring. Our remote monitoring will identify potential issues before there is an actual disruption enabling you to avoid downtime and data loss. We also monitor bandwidth utilization trends, backup processes, and more.
Firewall management. A fully managed firewall solution can eliminate configuration errors and help improve your security posture. Our team can handle all administrative tasks such as modifying firewall rules to enhance security and updating configurations to support additional services. Ongoing monitoring and management will ensure your firewall is properly patched, updated, and audited.
Remote desktop solutions. Our remote desktop service enables multiple remote users to connect to applications running on a server in the data center. This helps to ensure a consistent experience for remote users, no matter what machine or device they are using.
Laptop provisioning. Some companies choose to ensure consistency by purchasing laptops for remote workers. Mainstream provides expertise in the configuration and imaging of laptops for remote workers and the proper securing of the devices. Our security solutions include DNS filtering, email filtering, antivirus, antispam and more
Security. The increased dependence on devices outside the corporate network and firewall creates additional attack surfaces for malware and other bad actors to exploit. We can provide guidance to ensure employees are practicing safe computing while working from home. We can also ensure that application updates and patches are properly applied.
Herculean efforts by IT professionals have helped organizations overcome myriad technical challenges to enable employees to work from home. More work is yet to be done, however. We would welcome the opportunity to show you how Mainstream's managed services can help your remote workforce remain productive, efficient, and secure.
Jeff Pracht
IT Business Development Manager
Mainstream Technologies Inc.