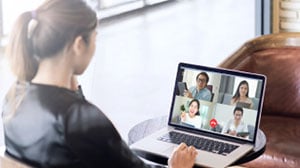 (March 9, 2021) Large-scale remote work models may have been implemented on an emergency basis last year, but the experiment has been highly successful. In fact, that many organizations plan to continue offering remote work long-term. This presents an interesting dichotomy, as long-term remote work puts IT in the hot seat … and the driver's seat.
Long-term remote work puts IT teams in the hot seat as they must support growing numbers of distributed workers, new HR models, and regulatory compliance mandates. Organizations that are slow to adapt to changing technology demands could find themselves at a competitive disadvantage.
At the same time, these trends give IT an opportunity to jump in the driver's seat and accelerate the adoption of technology solutions that help attract and retain top talent. Nimble organizations are increasing their spending on public and private cloud, security, networking and mobile solutions that address today's workplace requirements.
The Shift to the Hybrid Workplace
According to a recent report from Forrester Research, 21 percent of knowledge workers will work primarily from home in 2021 — triple the number in 2019. Almost half (47 percent) of managers say they plan to offer more full-time remote positions than in the past. Most organizations will adopt a hybrid workplace in which employees split their time between home and office.
Many managers have been surprised to find that remote work actually increases productivity. It also enables organizations to reduce real estate costs, tap into a larger talent pool and better support geographically dispersed customers.
Long-term remote work models are also becoming a necessity from a talent acquisition standpoint. More than half (53 percent) of employees say they would prefer to work from home even after the pandemic has abated. Forrester says that the most desirable workers will be looking for opportunities that are not location-dependent.
Technology's New Role
HR professionals have had to change their talent acquisition and training strategies to address this new approach. Savvy leaders are asking for more money for technology tools, including data analytics and artificial intelligence (AI) applications that help drive new workforce development models. Additionally, HR pros must ensure that the hybrid workplace meets regulatory requirements related to occupational health and safety, employee privacy, and more.
Technology also comes to the forefront with the new emphasis on the employee experience (EX). Forrester predicts that organizations with a well-developed EX strategy will have an advantage when it comes to attracting and retaining top talent.
EX should focus on fostering collaboration, making it easier to find and use data, and enhancing security without hindering productivity. Automation and AI will perform many labor-intensive tasks that once required onsite personnel.
Getting IT Expertise
Business and IT leaders have a choice — embrace these trends or risk falling behind more agile competitors. Organizations will need to ensure they have the right IT talent to help them optimize their on-premises and cloud environments.
Hiring skilled IT personnel has long been a challenge, and it's only become more difficult since the pandemic. Cloud, networking and cybersecurity expertise is in high demand, and there aren't enough IT professionals to fill open positions.
To address the need for IT talent, more organizations are increasingly leveraging the capabilities of managed services providers (MSPs). A quality MSP can offer a range of managed technology services to help develop and implement an IT strategy that enables the hybrid workplace and evolving HR models.
Such a strategy can include identifying gaps in current capabilities, modernizing IT infrastructure and enhancing cybersecurity. A well-defined and implemented strategy provides a competitive advantage by creating an attractive work environment and enhancing productivity.
Remote work models will be here for the long term, and that presents both threats and opportunities to organizations. The path forward largely depends on the targeted use of technology to improve talent acquisition and retention, enhance the employee experience, and drive competitive advantages.
ABOUT MAINSTREAM TECHNOLOGIES
Mainstream Technologies delivers a full range of technology services in Arkansas and the surrounding region including managed technology services and consulting custom software development and cybersecurity services. We also offer industry-leading data center services in our Little Rock facilities. Established in 1996, Mainstream has earned a reputation for delivering quality, reliable, and professional technology services for public and private-sector customers across the United States.