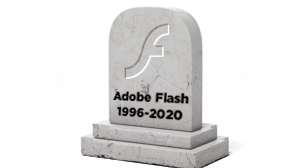 (December 21, 2020) Adobe officially rolled out the final release of Flash Player earlier this month, marking the last hurrah for the once-revolutionary browser plugin. As of Jan. 1, 2021, Adobe will no longer distribute, update or support Flash Player.  Adobe Flash end of life, are you prepared?
Flash was groundbreaking technology when it was introduced in the 1990s, facilitating multimedia content that fundamentally reshaped the web. Flash helped transform first-generation web pages from dull, static, and text-heavy sites to dynamic, interactive pages featuring animation and multimedia content.
Over the years, however, Flash devolved into a notorious source of security vulnerabilities.  According to one study in 2010, 99 percent of all computer users had Flash Player installed, creating a target-rich environment for cybercriminals and malware.
Risky Business
Cybercriminals have a long history of exploiting the inherently weak security of browser plugins. Because of the nature of the interaction between the plugin and the web browser, antivirus vendors have often encountered difficulties detecting malicious plugin activity without generating false positives. Additionally, plugins require broad access permissions, making them inviting targets for exploitation.  
The national vulnerability database maintained by the National Institute of Standards and Technology has more than 1,100 entries for Flash Player dating back to 2002. One vulnerability was considered the single most-exploited software flaw of 2019.
As security issues mounted, new technologies emerged that provided many of the capabilities that Flash Player pioneered. When Adobe announced its decision to end support for Flash Player, the company noted that open standards such as HTML5, WebGL, and WebAssembly had made Flash less relevant.
The major browser vendors prefer these open standards. Google Chrome, Microsoft Edge and Internet Explorer, and Mozilla Firefox will no longer support Flash Player by the end of 2020.
Adobe is slated to remove the Flash Player download pages from its website as of New Year's Day, and Flash-based content will be blocked from running beginning on Jan. 12. Most browsers will block Flash, but security experts recommend that you uninstall it throughout your environment to eliminate any security threats.
Cleaning House
Simply removing Flash from your environment may be easier said than done, however. It will likely take some time before all Flash dependencies are eliminated.
Millions of public websites, company intranet sites, e-learning courses, and document management tools are still dependent on Flash. To continue using those systems, companies may have to preserve older browsers that continue to support Flash. What's more, they'll have to turn off the browser's automatic update feature to prevent it from updating and ultimately disabling Flash.
Continuing to run outdated browser versions along with unsupported Adobe Flash creates a potential security risk and vector for malware and other exploits. Other Flash transition options include "helper apps" and packaged browsers. Any approach should be carefully evaluated to gauge complexity and ease of use. Mitigating risk while applications and web content are being transitioned away from Flash should be the primary goal.
Although Flash Player had an important role in the development of the World Wide Web, all technology has a lifespan. It is time to move on to newer technology, although the transition to a replacement can be complex.
Mainstream Technologies provides IT, security, application development, and data center services for organizations throughout the U.S. We have assisted numerous partners with assessing risk and developing and executing application transition strategies. Contact us today for more information.
ABOUT MAINSTREAM TECHNOLOGIES
Mainstream Technologies delivers a full range of IT services in Arkansas and the surrounding region including IT management and consulting custom software development, and cybersecurity. We also offer industry-leading data center services in our Little Rock facilities. Established in 1996, Mainstream has earned a reputation for delivering quality, reliable, and professional technology services for public- and private-sector customers across the United States.
Jeff Pracht
IT Business Development Manager
(479) 715-8629 Office
(501) 529-0008 Mobile