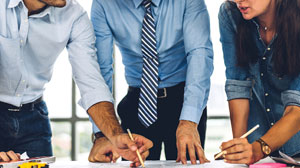 (November 15, 2021) Pandemic-related supply chain constraints have led to significant lead times for the delivery of many technology products, which can delay projects by weeks or even months. When the products do arrive, the shortage of skilled IT workers can make it difficult to keep projects on track. These supply chain constraints underscore the importance of IT project planning.
The Standish Group's CHAOS report analyzes thousands of IT projects to determine their outcomes. The 2020 report finds that just 35 percent of IT projects were completed on time and within budget. Nearly half (47 percent) went over budget, we're behind schedule, or produced low-quality deliverables. A staggering 19 percent were simply abandoned.
Reducing the risk of project failure requires laying the proper foundation for success. By focusing on these six key success factors, organizations can significantly improve the likelihood of successful technology implementation.
Seek outside help. A managed services provider (MSP) can be an important ally in any IT project. Best-in-class MSPs will have extensive project management experience as well as strong technical skills. MSPs also have the benefit of collective experience gained by working with clients across multiple industries.
Get stakeholder buy-in. IT leaders should ensure that the executive team is on board and involve end-users in both decision-making and information-gathering. Getting stakeholder buy-in starts with establishing a vision and goals and setting the right expectations and parameters for success.
Allocate the right resources. In addition to technical experts, the project team should include individuals who have a deep understanding of organizational processes. Partnering with an MSP can help ensure that the IT team has the skills needed to implement the technology and operate it long-term.
Set realistic deadlines. In the early phase of excitement about a project, it's easy to set overly aggressive deadlines. Effective project management considers the amount of time and effort required to reach each milestone and sets realistic deadlines with built-in buffers. This is also the time to determine how long it will take to procure products and outside services.
Establish communication channels. According to the Project Management Institute, 30 percent of projects fail due to poor communication. Progress can grind to a halt simply because someone is waiting on information from someone else. Project management and collaboration tools can help by providing a centralized point for documentation and communication. It's also important to establish accountability for responding to requests in a timely manner.
Build-in flexibility. Organizational priorities change, particularly in today's highly competitive environment. There can be sudden "shocks" — who knew in 2019 that a pandemic would disrupt project plans? Effective project management includes the ability to alter course when obstacles get in the way, and to learn from mistakes and successes.
Technology project planning is more than establishing a timeline for product procurement and installation. It starts with setting the right goals and objectives, engaging stakeholders, and putting the right resources in place to ensure success. Today's supply chain constraints up the ante, increasing the importance of effective project management.
Jeff Pracht
IT Business Development Manager
(479) 715-8629 Office
(501) 529-0008 Mobile