IT Modernization is key to reducing risk and driving improved business outcomes.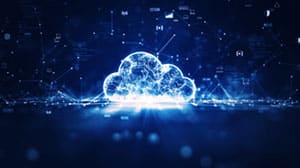 (October 4, 2022) Many organizations today are trying to meet 21st-century business requirements with 20th-century technology. Outdated systems make up nearly a third of the typical organization's technology stack, according to a Vanson Bourne survey, and 80 percent of IT leaders say failure to modernize these systems will limit long-term growth.
Modernization can eliminate risk and create a number of bottom-line benefits. According to research by Enterprise Strategy Group (ESG), organizations that modernize their IT environments are 22 times more likely to be ahead of the competition when bringing new products and services to market. They are also 18 times more likely to make better and faster data-driven decisions than their competition and twice as likely to exceed their revenue goals.
"Cloud migrations and application updates are essential elements of a modernization effort, but many other areas of the IT environment must also be addressed," said Mark McClelland, co-founder and vice president of Mainstream Technologies. "Infrastructure modernization is a big job that involves modifications and updates to hardware, software, and networking components."
Infrastructure modernization
A key first step that will enable a range of other modernization efforts. For example, artificial intelligence, automation, and analytics projects will likely all require infrastructure changes to better support the collection, processing, and analysis of huge data sets from various sources. But with data sources scattered across remote locations, edge servers, and multi-cloud environments, organizations need a more unified IT environment to reduce complexity and fragmentation.
"That's why many organizations are moving toward hybrid data centers that combine cloud and on-premises resources. They deliver the cost optimization, flexibility, scalability, and elasticity of the cloud along with the control, security, and reliability of on-premises infrastructure," McClelland said. "Hybrid data centers support a multi-cloud strategy by delivering workloads across several public or private clouds."
Network modernization
Most organizations using legacy wide-area network (WAN) solutions have experienced connectivity issues since shifting to remote work. According to some surveys, employees report that productivity is diminished due to slow application response times and other connectivity issues. Remote employees often turn to insecure Internet connections or unsanctioned cloud applications to overcome such obstacles, but that can open up new security vulnerabilities.
Software-defined WAN (SD-WAN) solutions can drive network modernization by virtualizing network hardware and making it programmable through software. SD-WAN simplifies multisite connectivity by virtualizing network services, allowing network functions to be centrally deployed and managed from a single device. With point-to-point connectivity and automatic failover to multiple transport types, SD-WAN helps ensure that remote employees have reliable access to the data and applications they need.
In addition, SD-WANs offer important security benefits, including end-to-end encryption across any network type, simplified network segmentation, and enhanced branch-office security.
Device modernization
All technology eventually wears out. PCs, laptops, tablets, smartphones, wireless routers, and other devices have a finite lifetime. Even when they still seem to be working well, aging devices can have hidden costs. A TechAisle study found that annual repair costs for a five-year-old PC are almost double that of a new machine, with employees experiencing an average of 42 hours of lost productivity each year while machines are being repaired. Older devices experience more frequent application and system performance issues, malware attacks, and connectivity problems.
"Remote workers are highly dependent on personal smartphones, laptops, and desktop computers," said McClelland. "In most cases, these are consumer-grade devices that lack the computing power, reliability, and features of a business-grade machine."
Business-grade laptops with the latest processors provide the performance, connectivity and battery-life remote workers require. Investments that companies make in device upgrades are paying off in increased productivity. According to an Intel study, remote workers with devices featuring 10th-generation CPUs achieve 40 percent better application performance, 36 percent improved productivity, and 44 percent faster analytics.
Security modernization
Decentralized computing environments make security more challenging than ever because resources are no longer contained within a traditional security perimeter. An SD-WAN improves security with end-to-end encryption and authentication. It also lays the foundation for Secure Access Service Edge (SASE), which consolidates multiple network and security functions into a single cloud-delivered solution.
"To further modernize security efforts, more organizations are adopting a zero-trust strategy that assumes everyone and everything accessing network resources is a threat until verified and validated," McClelland said. "Core zero-trust technologies include multifactor authentication, device validation, and network segmentation."
Backup modernization
Cloud backup should be incorporated into any modernization strategy. In a pure cloud backup environment, data is copied directly to cloud infrastructure through agents installed on company systems and user devices. In a hybrid cloud backup approach, data is copied to an onsite appliance which in turn synchronizes the data to a cloud provider.
Either approach makes it simple to restore data in the event of a server crash or some other disaster. Cloud backup options require no capital investment for equipment and make backup an operational cost. Increased automation is another benefit.
"Cloud backup solutions eliminate error-prone manual processes, and provide automated backup and file syncing that reduces the backup window and relieves IT, staff of much of the management burden," said McClelland. "Backups are scheduled to occur automatically, and data is compressed, deduplicated, and encrypted. Automated testing features ensure that all data and applications can be recovered if there is a disruption."
ABOUT MAINSTREAM TECHNOLOGIES
Mainstream Technologies delivers a full range of technology services in Arkansas and the surrounding region including managed technology services and consulting, custom software development, and cybersecurity services. We also offer industry-leading data center services in our Little Rock facilities. Established in 1996, Mainstream has earned a reputation for delivering quality, reliable, and professional technology services for public and private-sector customers across the United States.
Jeff Pracht
IT Business Development Manager
(479) 715-8629 Office
(501) 529-0008 Mobile