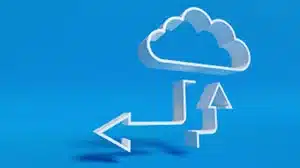 (March 7, 2023) Cloud adoption shows no signs of slowing down, especially for small to midsize businesses (SMBs). Most have adopted the Software-as-a-Service (SaaS) model, using cloud-based applications such as email and customer relationship management platforms. However, the Infrastructure-as-a-Service (IaaS) model is also seeing an uptick in adoption. According to the Flexera State of the Cloud Report 2022, SMBs have moved 57 percent of workloads to the cloud and plan to migrate another 6 percent in the next 12 months.
IaaS allows you to "rent" a service provider's resources instead of purchasing and maintaining on-premises infrastructure. It can be very cost-efficient and flexible, allowing you to dynamically scale services and pay only for the resources you need. The cloud service provider manages the data center infrastructure, constantly monitors performance, and uses advanced security tools.
A related concept is dedicated hosting. While IaaS resources are shared by multiple organizations, dedicated hosting provides you with your own server within the service provider's data center. Moving your server into a hosted data center reduces real estate and utility costs and gives you access to expert management and support services. In addition, the service provider will have an enterprise-class facility with backup power, redundant connectivity, and optimized cooling, helping to maximize the reliability of your equipment.
What to Look for in a Provider
Naturally, more hosted data center providers have popped up as demand for cloud resources has increased, so you have to evaluate providers carefully. Look for a provider with a robust data center capable of reliably providing the resources you need, now and in the future. Make sure the provider follows best practices to reduce the risk of costly service disruptions.
Can they accommodate dynamic workloads? Are they willing and able to offer a solution that's customized to suit your business needs? Also, ask to see the provider's service level agreement (SLA). Make sure the SLA includes parameters for responding to and resolving service issues, with penalties for failing to meet those terms.
Finally, how much does the provider's solution cost? What's included and what's not? Is the cost aligned with the value you expect to receive? When you need more resources, how will that affect your monthly costs? Is there a penalty for reducing the resources you use?
The Advantage of Going Local
Many SMBs will choose one of the major cloud or hosting providers because they are familiar with those services. It's relatively easy to go online, set up an account, and get started. However, when dealing with a major cloud provider you're pretty much on your own when choosing, configuring, and securing those services. Basic support often involves time-consuming email interactions.  Advanced support is usually not included and can add significantly to overall costs.
When you work with a local provider, you can speak with someone who spends time learning about your business. You can visit the local provider's data center and see your server. Expert advice and support are typically included. And you may be pleasantly surprised when you receive a price quote. While you might expect to pay less with the big-name players, costs are generally lower and easier to understand with a local provider.
Ultimately, you have to determine who you can trust to listen to you, work with you to customize a solution and provide you with personalized service. Mainstream Technologies is a local provider that offers hosted infrastructure and co-location services with the needs of smaller organizations in mind. Let us show you how our data center solutions deliver reliable, secure services without the cost and headache of purchasing and maintaining onsite infrastructure.
ABOUT MAINSTREAM TECHNOLOGIES
Mainstream Technologies delivers a full range of technology services in Arkansas and the surrounding region including managed technology services and consulting, custom software development, and cybersecurity services. We also offer industry-leading data center services in our Little Rock facilities. Established in 1996, Mainstream has earned a reputation for delivering quality, reliable, and professional technology services for public and private-sector customers across the United States.
Jeff Pracht
IT Business Development Manager
(479) 715-8629 Office
(501) 529-0008 Mobile