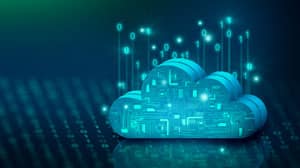 (November 9, 2022) Despite concerns regarding loss of control and visibility, there is growing acknowledgment that public cloud adoption can improve operations and future-proof IT infrastructure.
In one recent survey, global IT decision-makers reported that the success of pandemic-driven public cloud initiatives is causing them to reassess their entire IT operating model. Nearly 90 percent said they are accelerating their public cloud migrations, and 74 percent said they expect the vast majority of workloads and applications will be transitioned off premises by 2025.
In a separate survey, IT professionals said strategic business outcomes will drive the shift. Respondents said two of their primary motives for modifying their IT infrastructures are to gain the flexibility to meet dynamic business requirements (55 percent) and improve support for customers and remote workers (46 percent). Additionally, respondents said cloud migration will allow them to simplify operations, strengthen business continuity plans, and offer more flexible work setups.
Here are a few of the many ways that a strategic approach to cloud adoption can deliver real business and IT benefits:
Elasticity and Scalability. Although often used interchangeably, these are actually very different cloud characteristics. Cloud elasticity is the ability of a system's hypervisor to quickly create virtual machines, containers, or other resources to match real-time application demands. Scalability refers to the amount of server and storage resources available to meet service or application requirements. Both characteristics help organizations meet their IT demands dynamically as they move applications and data into the cloud.
Easier Management. Cloud solutions eliminate many repetitive infrastructure management tasks through increased levels of automation and orchestration. Web-based user consoles provide "single-pane-of-glass" management of cloud-based IT assets, allowing administrators to set and enforce policies easily, allocate resources, and control access.
Rapid Deployment. Responding to changing business or technology needs can be tough with in-house infrastructure. Given today's supply chain constraints, it can take weeks to acquire, configure and deploy a dedicated server. With on-demand self-service, it may only take a couple of minutes to deploy a cloud server through a control panel interface.
Improved Resilience. The distributed nature of cloud resources contributes to IT resilience and business continuity by improving backup processes and making it easier to recover from a disaster. Cloud-based backup options are often simpler and more reliable than legacy backup storage solutions with a much higher chance of data corruption.
Although the shift to cloud services can deliver significant investment protection and performance enhancements, it is not without challenges. Many organizations are unable to capture notable benefits from their cloud computing projects because internal IT departments lack the resources and expertise to effectively monitor and manage the cloud environment.
A managed services provider (MSP) with cloud expertise can frequently deliver better results while also freeing up your in-house IT staff to focus on other essential workflows and applications. Best-in-class MSPs have the breadth of expertise to help ensure your cloud solutions deliver the business and IT benefits you expect.
ABOUT MAINSTREAM TECHNOLOGIES
Mainstream Technologies delivers a full range of technology services in Arkansas and the surrounding region including managed technology services and consulting, custom software development, and cybersecurity services. We also offer industry-leading data center services in our Little Rock facilities. Established in 1996, Mainstream has earned a reputation for delivering quality, reliable, and professional technology services for public and private-sector customers across the United States.
Jeff Pracht
IT Business Development Manager
(479) 715-8629 Office
(501) 529-0008 Mobile