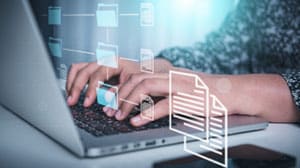 (September 1, 2022) Productivity depends upon the ability to access and share files regardless of location, but many users still lack the tools they need. According to a recent report from OpenText, 26% of hybrid workers are unable to share files as easily when working from home as when they're working at the office.
This challenge leads many employees to take matters into their own hands. The OpenText study found that 56 percent of employees resort to using personal file-sharing tools such as Dropbox and Google Drive. Worse, 32 percent do so despite knowing the security risks and their company's policy against it.
Prohibiting the use of consumer-grade tools is not enough — left to their own devices, employees will implement their own workarounds to get the job done. Organizations need a secure, enterprise-class file-sharing platform to streamline business processes and reduce risk.
File-Sharing Risks
Traditionally, email was usually the first option for file sharing. However, emailing files back and forth is slow, inefficient, and error-prone. Email also has file size and storage limits that can hamper users' ability to share large files.
Lacking an alternative, many employees turn to the free file-sharing services they already use outside the workplace. As a result, many organizations are dealing with a "shadow IT" scenario in which employees use file-sharing solutions without the approval or knowledge of the IT department.
The use of consumer-grade file-sharing services makes it extremely difficult for organizations to maintain control of company data. IT teams lack visibility into where data is stored and who is authorized to access it. If someone leaves an organization, important company files stored in that employee's personal file-share service often leave with them.
Delivering Value
All of these factors increase the risk of data loss, security breaches, and e-discovery issues. Regulatory compliance violations are another potential headache since free file-sharing services typically don't meet minimum requirements for data privacy and security. Plus, the use of different solutions creates complexity and confusion that saps productivity.
Enterprise-class file-sharing services enable organizations to control data and user access without compromising employee productivity. Large files such as videos, images and presentations can be shared without issues, and a common platform makes it easier for employees to collaborate. Robust security controls and file encryption reduce the risk of data exposure and regulatory compliance violations.
On-premises file-sharing systems offer the greatest flexibility and control but require significant upfront investments and ongoing maintenance and management. Cloud-based services can be deployed quickly and accessed from virtually any location and device with an Internet connection.
Choosing the Right Solution
The key is to choose a file-sharing service that is user-friendly yet provides the security controls needed to meet business and regulatory requirements. Look for end-to-end encryption and the ability to set granular permissions so that only authorized users can access and modify files. Leading file-sharing solutions also make it possible to limit viewing time, restrict downloads, and recall documents that have been shared.
Employees should be educated about file-sharing best practices, the risks of mishandling data, and how the service can help them do their jobs. When employees realize how easy file sharing can be, and that an enterprise-class platform offers more features than consumer-grade services, shadow IT becomes unnecessary.
In an age of remote and hybrid work models, secure, seamless file sharing is a business necessity. An enterprise-class file-sharing solution with the right blend of security, user-friendliness, and ease of administration can reduce risk while enhancing collaboration.
ABOUT MAINSTREAM TECHNOLOGIES
Mainstream Technologies delivers a full range of technology services in Arkansas and the surrounding region including managed technology services and consulting, custom software development, and cybersecurity services. We also offer industry-leading data center services in our Little Rock facilities. Established in 1996, Mainstream has earned a reputation for delivering quality, reliable, and professional technology services for public and private-sector customers across the United States.
Jeff Pracht
IT Business Development Manager
(479) 715-8629 Office
(501) 529-0008 Mobile