If you're considering developing a new custom software solution to modernize your business technology, employing The Evidence and Impact process is essential to understand how the effort will affect the organization.  It can also be used to assure you stay focused throughout the project and stay on target.  To read more about the evidence and impact process, please refer to the following posts.
The Benefits of the Evidence & Impact Process – Article
Software Development – A Best Practice – Article
The Triple Constraint: Cheap, Fast or Good? Pick Two. – Article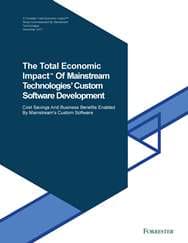 Case Study: Government Agency Completes Technology Transformation – Generates a 48% ROI 
A government agency tasked Mainstream Technologies' Custom Software Development team to reimagine and recreate their solution to address the challenges their legacy technology posed.
Mainstream Technologies commissioned Forrester Consulting to generate a Total Economic Impact™ study to document the cost savings and business benefits the agency generated by this transformational initiative.  Click here to download the free CASE STUDY that details how this extraordinary ROI was created.