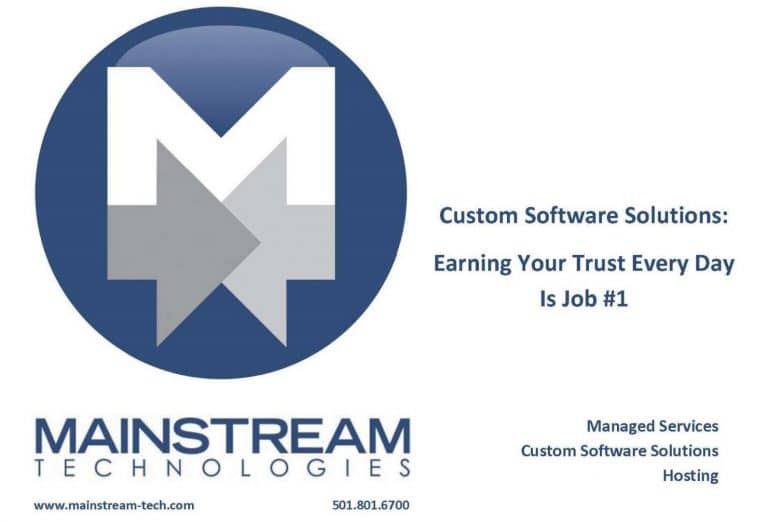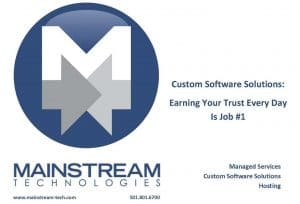 The effort of creating a software solution is a significant commitment of time and money. We understand that opening up your business to a third party is risky. Clients need assurance that whoever they do bring in will be discrete and meet their expectations.
When we're first brought in to discuss a project, one of the toughest challenges we face is conveying our trustworthiness. We understand there's a lot at stake, which is why we value the evaluation process as an opportunity for earning your trust.
The Evaluation Process
Since the evaluation process is a first impression and the first time we get to work with a new client, it's important to get off on the right foot. It's a "get to know you" exercise where together we learn if we share common values and see if Mainstream is a good fit that can add value to the business.
One of the first things we'll provide is a list of references. These references will be similar in complexity, scope, and stature to the project under review. It's our hope that these references will be contacted because they're our strongest advocates. They have experience working with us and can shed light on our commitment to excellence and our ability to deliver. These recommendations are an important element for instilling trust to someone who's never worked with us.
During our interview, we're asking for the opportunity to be a part of the client's team to apply our knowledge, experience, and skills in a manner that will benefit their business today and for years to come. We're mindful that there's a lot at stake. Our passion goes beyond building a solution, but also to look for ways to add new efficiencies that may not be apparent from the outset.
There are several other ways Mainstream goes beyond the norm to engender trust and align our interests with the client.
The Proposal
Every proposal we submit is loosely structured in the client's favor. There's no long term commitment requirement expected from them. This approach means that if they're ever dissatisfied with our work there's an easy out.
We're confident in our ability to deliver and our proposal demonstrates this in a meaningful way. It aligns our interest with the client by placing us in a position to earn their trust every day. We realize this doesn't eliminate all of the risks, but it does eliminate the client's risk of being tied to an unproductive provider.
Design & Development Phase – The Rapid Feedback Cycle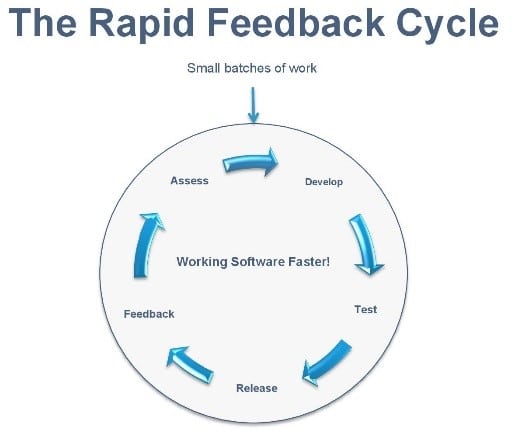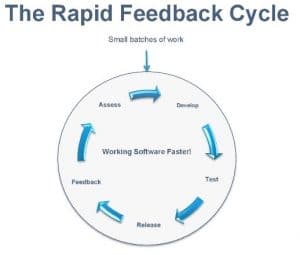 Once we come to terms and have completed the initial ramp-up, we use the Rapid Feedback Cycle (RFC) throughout the development phase. The RFC assures our client is kept abreast of our progress on a routine and frequent basis.
The RFC is a discipline that identifies the most pressing issues, prioritizes them, and breaks them into the smallest possible features which are then given to the programming team. The team then goes into a 'sprint' to build out that feature and once completed, it's delivered to the client for user acceptance testing. The duration of these 'sprints' vary but are generally in two-week increments.
Breaking down a large project into smaller features allows us to prioritize the most pressing issues, minimize the complexity of the project, reduce the chance for wasted effort and roll out software for testing faster than traditional methods.
The RFC benefits the client in a number of ways including:
The client can get started building a software foundation knowing the final solution may differ from the original vision due to the RFC process.
The client can validate progress on a frequent basis throughout the engagement.
The client can shift requirements during development easier than with traditional methods.
We can deliver quick results for a relatively small investment
User feedback is received faster which lessens the chance for wasted effort
Faster user feedback delivers better results.
User collaboration increases overall satisfaction and adoption.
The less wasted effort, the lower the overall solution cost.
If software is strategic to your business success and you need help, don't take our word for it. Our clients will speak on our behalf. For more information visit our website at www.mainstream-tech.com or send an email @ info@mainstream-tech.com.