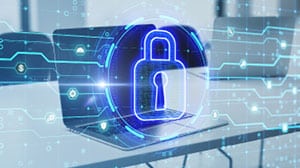 (January 20) Data in motion is data at risk. Anytime data is transmitted from one location to another over a public or private network, there is a chance it could wind up in the wrong hands. Those risks have skyrocketed over the past three years. Data loss prevention can minimize the risk of breaches.
The volume of information compromised in data breaches continues to increase every year as traffic moves back and forth between home offices, cloud platforms, and corporate networks. According to Security Magazine, about 22 billion data records were exposed in 4,100 publicly disclosed breaches in 2021. The number for 2022 is expected to be at least 5 percent higher.
As much as 40 percent of data breach incidents are the result of improper email practices, according to a study by Arlington Research. The firm says that the stress and distractions of working at home make remote employees more likely to expose sensitive data by sending an email to the wrong person or attaching the wrong file.
With remote operations likely to remain common in the near future, more organizations are investing in data loss prevention (DLP) solutions. Analysts with Mordor Intelligence forecast 22.29 percent annual growth for the DLP market through 2028 as organizations seek to improve security and reduce the risk of data loss or leakage.
DLP Helps Stop Leaks
DLP solutions monitor user devices, email clients, file-sharing services, and other network entry and exit points, alerting administrators when the sharing or transfer of data violates company policies. In addition to helping companies protect their sensitive data, DLP facilitates compliance with major data privacy standards such as the California Consumer Privacy Act (CCPA), EU General Data Protection Regulation (GDPR), and Health Insurance Portability and Accountability Act (HIPAA).
DLP can help prevent confidential information such as financial data, trade secrets, credit card numbers, tax documents, and medical records from leaving the organization. It can also prevent unauthorized users from downloading or copying data onto USB devices or other unsecured endpoints and can inspect communications to ensure that confidential data is not transmitted via email, instant messaging, or social networking sites.
DLP uses a variety of content-analysis techniques to discover, monitor, and manage sensitive data in transit, at rest or in use. More advanced solutions use artificial intelligence (AI) to predict data loss. AI-powered DLP solutions monitor user actions to detect activities that fall outside normal patterns, becoming more effective over time as they collect more data.
Locating Sensitive Data
Data discovery is another crucial capability of DLP solutions. Few organizations know where all of their sensitive data resides on the network, and that lack of visibility is a contributing factor in many data loss incidents. Comprehensive DLP solutions include discovery components that identify sensitive data in file servers, databases, and email repositories, as well as endpoints such as desktops, laptops, and removable storage. Once sensitive data is identified, the DLP solution serves as a centralized platform for setting, managing, and enforcing policies governing data protection.
There are two main ways to implement DLP protection — either as a standalone software tool, or as part of a comprehensive package of integrated solutions such as next-generation firewalls, intrusion prevention systems, or unified threat management platforms. Standalone solutions tend to be more full-featured products geared toward enterprise organizations. Integrated solutions allow smaller organizations to gain DLP protection without the overhead and complexity of a dedicated solution.
No matter the approach, DLP is an increasingly important element of a layered security strategy for organizations of all sizes. Contact us to learn more about using DLP to minimize your risk of a breach that could expose your sensitive data.
ABOUT MAINSTREAM TECHNOLOGIES
Mainstream Technologies delivers a full range of technology services in Arkansas and the surrounding region including managed technology services and consulting, custom software development and cybersecurity services. We also offer industry-leading data center services in our Little Rock facilities. Established in 1996, Mainstream has earned a reputation for delivering quality, reliable, and professional technology services for public and private-sector customers across the United States.
Jeff Pracht
IT Business Development Manager
(479) 715-8629 Office
(501) 529-0008 Mobile