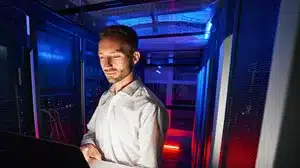 (August 14, 2023) An unplanned data center outage can be devastating to any business. However, increasingly severe weather, cyberattacks, and other factors are making outages more likely. Smart organizations mitigate those risks by improving data center colocation resilience and security.
That's not always easy. Many organizations house their IT equipment in an informal data center within their office space. Few office buildings have redundant power and cooling, strong physical security, and other features of a robust data center environment. Organizations would have a difficult time bringing their facilities up to the level needed to minimize downtime risks.
Colocation offers a more cost-effective option. In a colocation arrangement, organizations lease space within the provider's data center to house their IT equipment. This can be an entire room or a single server rack. Some providers even allow customers to lease a quarter or half of a rack. Regardless of the size of the space, customers gain the advantage of hosting their equipment in a resilient data center.
Here are four ways data center colocation helps reduce the risk of unplanned outages.
Redundant Systems
According to a recent study by the Ponemon Institute, almost half of on-premises data centers experience downtime due to equipment or power failures. Colocation data centers minimize the risk with built-in backup systems.
Because power outages are a common problem, colocation providers often negotiate "first priority" contracts with electric utilities. Best-in-class facilities also have generators and uninterruptible power supplies. Connections with multiple telecom carriers help keep the network up and running. These redundant systems enable colocation providers to deliver high levels of availability.
Physical Security
When most people think of data center security, they think of protection against cyberattacks. That's certainly critical, but it's important to remember that data centers are primary targets of theft, terrorism, and other crimes.
Colocation providers protect their facilities with multiple layers of security. Essential components include perimeter security, video surveillance, and access controls. Providers also develop security protocols for logging access, screening and monitoring visitors, and verifying that people leaving the facility have not attempted to take anything. Data center personnel must go through rigorous screening and background checks. Access cards and other credentials are promptly deactivated when their employment is terminated.
Data Center Staff
A major problem with an onsite data center is the inability to access it during an emergency or disaster. During the pandemic, many organizations faced the challenge of operating their data centers during lockdowns.
Colocations providers have contingency plans for staff access to keep customers' systems up and running. Providers generally set aside space and other accommodations to support staff when travel is impaired.
Policies and Procedures
Colocation providers have policies and procedures to reduce risk and meet SLAs. Data center staff routinely test backup systems to ensure that they will be operational if needed. They also perform routine maintenance on power, cooling, and other systems and conduct regular assessments to ensure these systems are adequate to support anticipated demand.
Staff are trained to handle any manual interventions needed to transfer to backup systems. If a disruption occurs, they analyze the root cause and take steps to prevent a repeat occurrence.
Managed Colocation
Managed colocation services combine all the benefits of colocation with a comprehensive suite of managed services. The provider not only hosts your IT equipment but can handle all the monitoring, management, and support services needed to keep that equipment up and running.
Mainstream offers enterprise-class managed colocation services that cover hardware installation and maintenance, power and cooling, connectivity, and more. You can rapidly scale and deploy new services to meet dynamic business demands while maintaining greater control than in the public cloud. Let's discuss how Mainstream's managed colocation can help you improve resilience, reduce risk and relieve IT headaches.
ABOUT MAINSTREAM TECHNOLOGIES
Mainstream Technologies delivers a full range of technology services in Arkansas and the surrounding region including managed technology services and consulting, custom software development, and cybersecurity services. We also offer industry-leading data center services in our Little Rock facilities. Established in 1996, Mainstream has earned a reputation for delivering quality, reliable, and professional technology services for public and private-sector customers across the United States.
Jeff Pracht
IT Business Development Manager
(479) 715-8629 Office
(501) 529-0008 Mobile
Contact Us