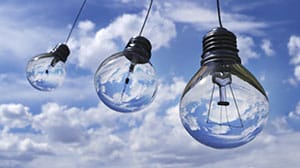 (February 8, 2023) Industry analysts expect organizations to spend more on cloud services in 2023 — but that's a safe prediction to make. The cloud has become an integral part of day-to-day business operations. ESG Practice Director Scott Sinclair said, 'It's like electricity now. [The cloud] runs the business."
However, many businesses are running up their bills by leaving all the lights on all the time. A third of the cloud spend is wasted, according to Flexera's 2022 State of the Cloud survey, and for the sixth year in a row respondents said that optimizing cloud usage is their No. 1 priority.
There are many reasons for cloud cost overruns. Capacity is often overprovisioned, and orphaned services are left on when they're no longer needed. Cloud instances that are used only needed during business hours are set up to run 24×7. However, all of these issues are symptoms of the lack of a cloud strategy.
Because provisioning cloud services is easy, few organizations take the time to develop an overarching plan for cloud adoption and usage. A cloud strategy is not a migration plan, and it's not an IT-only proposition. To be effective, a cloud strategy should establish how the cloud will help support the business and provide a framework for decision-making.
Questions to Ask
The first step is to identify, in business terms, why you want to move a particular application or service to the cloud. Will it make the business more agile? Will it enable you to reduce operational overhead or avoid capital expenditures? Answering these types of questions will help you determine if moving to the cloud will solve a real business problem.
Key stakeholders throughout the business should be involved in developing the cloud strategy. Moving to the cloud will typically affect multiple business processes and workflows, and may involve sensitive data. The IT team plays a key role in implementing cloud services and integrating them with existing IT infrastructure, but business users are often in the best position to identify the potential risks of cloud migration.
Security is always an area of concern when moving to the cloud. In most cases, security strategies need to be updated and tighter access controls implemented. The key is to build security into your cloud strategy from the beginning instead of figuring it out later.
Alternatives to the Cloud
It's also important to remember that the cloud is not right for every application. Consider the cost and effort required to refactor an application for the cloud, and whether related applications and services are cloud-ready. If a legacy application must be substantially rewritten for the cloud, it may make more sense to replace it with a Software-as-a-Service solution or simply leave it on-premises.
There are also alternatives to the cloud. By moving an application and its associated infrastructure to a colocation environment, you can reduce the power, cooling, and facilities costs of maintaining it on-premises. In addition, you gain access to greater network bandwidth, backup power and connectivity, and physical security. Fully managed data center services include monitoring and maintenance by a managed services provider (MSP).
Mainstream can help you ask the right questions and guide you through the decision-making process. We have extensive expertise in cloud environments and have built a world-class data center for hosting our customer's applications and infrastructure. We also provide a full suite of managed services that help maximize performance, security, and reliability. Let us help you develop a cloud strategy that optimizes costs and drives your business forward.
ABOUT MAINSTREAM TECHNOLOGIES
Mainstream Technologies delivers a full range of technology services in Arkansas and the surrounding region including managed technology services and consulting, custom software development, and cybersecurity services. We also offer industry-leading data center services in our Little Rock facilities. Established in 1996, Mainstream has earned a reputation for delivering quality, reliable, and professional technology services for public and private-sector customers across the United States.
Jeff Pracht
IT Business Development Manager
(479) 715-8629 Office
(501) 529-0008 Mobile