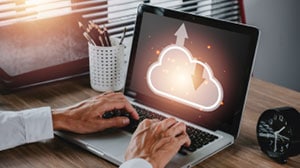 (June 22, 2022) The cloud has become a popular choice for data backup. It eliminates the need to invest in onsite storage, provides near limitless capacity, and offers a hedge against disaster because backup data is stored offsite.
Cloud backup solutions can also help businesses comply with the 3-2-1 Rule of data protection and provide data immutability as part of mitigating ransomware threats. Backup and recovery processes can be managed from virtually any Internet-connected device, often with a few mouse clicks.
Cloud-based backup is certainly better than no backup at all. However, it's not a panacea. That's why it's vital to evaluate cloud backup solutions and test them regularly to ensure that backup jobs are being completed.
Data Protection Gaps
Data backup is one of the most critical IT operational processes. Cyberattacks are an ever-present threat, potentially leading to catastrophic data loss and extended downtime. IT equipment failure, natural disasters, and human error are other common risks that must be addressed with a solid backup plan.
However, backup has long been a challenge for organizations of all sizes, and it's become increasingly difficult due to growing data volumes and business demands. According to Veeam's 2022 Data Protection Report, 89 percent of organizations say there's a gap between the frequency of their backups and the amount of data they can afford to lose.
In a recent Mimecast report on the State of Ransomware Readiness, just 45 percent of organizations said they had an effective file backup strategy. Half said they were unprepared for a ransomware attack due to a lack of file backups.
Cloud Backup Benefits and Risks
Cloud backup can help fill those gaps, but only if the cloud-based solution is up to the task. Consumer-grade cloud backup solutions don't provide the security and availability that businesses need. But even among business-grade cloud backup providers, there can be wide variations in cost and quality.
When evaluating cloud backup, organizations should determine whether data is protected from exposure and that applicable regulatory compliance requirements are met. High-profile cloud outages are happening with greater frequency — backing up large volumes of data to one provider creates a single point of failure. For mission-critical data, a multi-cloud backup solution reduces that risk.
Of course, cloud backup costs should be considered. Cloud backup is generally cheaper than onsite storage, but plans vary greatly. Some providers offer unlimited storage but charge per device, for example. Organizations should also look at features such as ease of use, performance and security to fully understand the cost per terabyte and overall value of the solution.
The Importance of Testing
Selecting a backup solution is just the beginning. Cloud backup providers are responsible for maintaining their infrastructure, and most solutions offer automated capabilities that minimize manual intervention. Nevertheless, backup requires monitoring and frequent testing to ensure that jobs are completed properly.
Cloud backups can fail for any number of reasons, from service disruptions to software glitches to network connectivity issues. Human error, local data corruption and administrator password changes can also affect backup jobs.
Backups are useless if the data cannot be recovered, or the backup job does not include all the files that need protection. Administrators should review the backup system's notifications and alerts daily. One complete test restore should be performed annually, along with routine test restores of random critical files on a more frequent basis.
The Fully Managed Approach
Another option is a fully managed backup solution. A managed services provider (MSP) will take responsibility for monitoring and managing the backup platform, addressing any failures and performing routine tests.
Many people think of cloud backup as a simple solution to their data protection woes. It can be a good choice, but organizations should perform due diligence before selecting a solution, and monitor and test backup jobs to ensure that they are successful.
ABOUT MAINSTREAM TECHNOLOGIES
Mainstream Technologies delivers a full range of technology services in Arkansas and the surrounding region including managed technology services and consulting, custom software development and cybersecurity services. We also offer industry-leading data center services in our Little Rock facilities. Established in 1996, Mainstream has earned a reputation for delivering quality, reliable, and professional technology services for public and private-sector customers across the United States.
Jeff Pracht
IT Business Development Manager
(479) 715-8629 Office
(501) 529-0008 Mobile