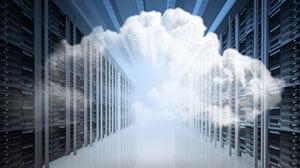 (August 22, 2022) Cloud computing and colocation services both offer organizations alternatives to housing data in on-premises data centers. Which is the best option? More and more companies are finding that combining the two in a hybrid strategy delivers compelling benefits.
The costs and challenges of maintaining on-premises data center infrastructure have become more than all but the largest enterprise organizations can adequately handle. According to one recent study, almost 90 percent of organizations said they planned to move workloads from in-house data centers to off-premises environments over the next three years.
Cloud computing and colocation are attractive options for companies looking to get out of the data center management business. For years, organizations have weighed the pros and cons of each approach when preparing for a data center relocation. Today, however, the overall trend is toward using both cloud and colocation in a hybrid environment.
More than 60 percent of organizations globally are already using or piloting a hybrid environment. More than 90 percent say this approach has become a core enabler of business strategy, according to NTT's 2021 Hybrid Cloud Report.
Cloud Computing's Limitations
When used in tandem, colocation and cloud-based infrastructure offer many benefits through the use of shared facilities. In a typical cloud service model, a third-party provider manages and maintains the infrastructure and delivers computing services to customers through the Internet. In a colocation arrangement, customers rent space in a provider's data center facilities for the hardware, software, and system architecture of their choice. Both options allow organizations to eliminate spending on data center real estate, property taxes, power, cooling, and physical security.
Cloud has been the preferred option for data center migrations for the past decade. Last year, spending on cloud infrastructure services surpassed on-premises spending for the first time. However, organizations have found that the cloud isn't the ideal environment for every workload.
In fact, many companies have begun repatriating workloads from the cloud. Various surveys find that about 70 percent of companies have moved some workloads from the cloud back to on-premises or colocation data centers. That's not an indictment of the cloud — cloud migrations continue to accelerate rapidly — it's just a recognition that different workloads have different requirements.
Unique Combination
In particular, companies are finding that the cloud isn't always suitable for workloads requiring special security, compliance, bandwidth, or network capacity requirements. Colocation is a great option for those types of workloads. Because customers own the hardware, they have much greater control over data, configurations, settings, and access. In addition, CoLo facilities are subject to a variety of security and privacy requirements that help ensure customer workloads comply with federal and industry regulations.
Together, cloud computing and CoLo offer some other unique possibilities. For example, organizations can use cloud services to deploy and manage workloads hosted on their servers hosted in a colocation facility. With this capability, the customer can use a cloud vendor's Infrastructure-as-a-Service (IaaS) offerings within the CoLo environment. That makes it easy to move workloads between the two environments.
The hybrid approach also offers some management efficiencies. The native management tools in public cloud platforms such as AWS and Azure can be used to manage workloads running on colocation hardware. That eliminates the headache of using different management tools for different workloads.
Organizations that are considering a transition to a hybrid cloud model can benefit from partnering with a managed services provider (MSP). Qualified MSPs have expertise in cloud platforms as well as traditional on-premises infrastructure. They can help determine the best mix of cloud and colocation services and maximize the flexibility benefits of the hybrid approach.
ABOUT MAINSTREAM TECHNOLOGIES
Mainstream Technologies offers cloud computing services in Arkansas and the surrounding region. Mainstream also offers managed technology services and consulting, custom software development, and cybersecurity services. We also offer industry-leading data center services in our Little Rock facilities. Established in 1996, Mainstream has earned a reputation for delivering quality, reliable, and professional technology services across the United States for public and private-sector customers.
Jeff Pracht
IT Business Development Manager
(479) 715-8629 Office
(501) 529-0008 Mobile