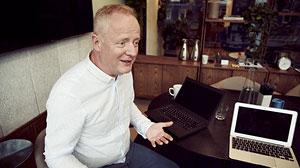 (August 2020) Business executives are increasingly occupied with IT-related issues, with one recent survey finding technology ranks second only to growth among CEO priorities. Tech outranked financial, workforce, customer and productivity considerations, according to Gartner's 2019 CEO and Senior Business Executive Survey. IT managed services can help address issues before they become critical.
That's not all bad. Tech-minded CEOs help drive digital initiatives that improve business processes and revenue-producing potential. Sometimes, however, complex technology issues can demand too much executive attention, pulling focus away from other essential management responsibilities.
While most executives understand the business-critical nature of IT, few are actual technology experts. As such, the rapid pace of technology change is often more than they can keep up with. Studying, assessing, and evaluating technologies can quickly become a full-time effort and divert attention from important day-to-day duties. That's particularly true in smaller organizations that lack technology-dedicated C-suite positions such as chief information officer (CIO), chief technology officer (CTO), and chief information security officer (CISO).
Working with a qualified IT managed services provider (MSP) such as Mainstream Technologies can relieve some of the burdens, allowing executives to devote more time, energy, and focus to broader leadership efforts. Beyond conventional "break/fix" IT support, Mainstream has the IT expertise and business acumen to help guide an organization's strategic technology decisions.
Creating Strategic Value
Basic IT functions such as maintenance, updates, and security patching remain essential elements of the IT Managed Service Provider value proposition, but providers today can bring much more to the table. A trusted MSP can deliver strategic value by streamlining workflows, driving innovation, enhancing communication, and improving decision-making.
Mainstream, for example, can work with you to develop a fully formed roadmap for adopting and using leading-edge technologies such as cloud services, mobile platforms, data analytics, and more. We work with key stakeholders to develop a strategic plan for ongoing IT improvements that can boost competitiveness, efficiency, and productivity. Mainstream can fill the role of Virtual CIO, helping align business requirements with technology.
Establishing a technology lifecycle and budget is an important initial step toward transitioning existing IT assets to leverage new technologies. The lifecycle establishes how technology will be used for current operations as well as for longer-term initiatives, and it will act as a framework for achieving those goals by establishing priorities and budgets, aligning resources, and identifying what actions must be taken and when.
Planning Ahead
This type of IT planning has become particularly important in an era of digital disruption. Mobile, cloud, analytics, artificial intelligence, and other technologies are accelerating the pace of change. However, many C-suite leaders admit this is an area of weakness in their companies. In Gartner's 2018 CIO Survey, only 23 percent of respondents rated their organization as effective or very effective at business strategy and planning, and only 29 percent rated their organization as effective or very effective at IT strategy and planning.
Those concerns also extend to cybersecurity initiatives. According to a global survey of more than 1,500 C-level executives earlier this year, 70 percent said they planned to increase their security budgets to address surging levels of malicious threats. However, almost 40 percent admitted they lack a clear cybersecurity strategy.
Part of the problem is that executives traditionally viewed technology as a collection of tools to be managed. However, there is growing recognition that IT strategy must be closely aligned with business objectives. A trusted partner such as Mainstream can help you create such a business/technology alignment. Rather than offering a generic service plan, we'll take the time to learn about your business requirements and objectives in order to formulate a customized strategy that meets both your immediate and long-term needs.
Technology is an integral component of a competitive advantage and not a necessary evil. IT Managed Services can help provide the resources needed to stabilize the environment and deliver new efficiencies. Give Mainstream a call to discuss how we can help relieve some of your IT management burden.
Jeff Pracht
IT Business Development Manager
(479) 715-8629 Office
(501) 529-0008 Mobile