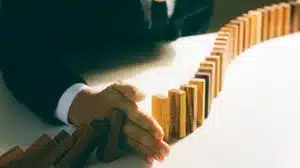 (April 18, 2023) There's an unfortunate misperception that detailed business continuity plans are only necessary for the aftermath of hurricanes, tornadoes, floods, fires, and other catastrophic disasters. Because such events are relatively uncommon, it's easy to procrastinate. One recent survey found that 51 percent of organizations have never created a business continuity plan.
Large-scale disasters aren't the greatest risk to operations, however. Unpredictable events such as application failures, power outages, and plumbing leaks are far more likely to cause major disruptions. The increasing frequency of viruses and cyberattacks also heightens the risk of downtime and data loss.
Many organizations think having reliable data backups with offsite storage is sufficient. That's an important component of business continuity, but it doesn't go far enough. Organizations need a plan for rapidly recovering their IT systems and applications to minimize costly, business-crippling downtime.
Business Continuity Planning: The Basics
A business continuity plan is a blueprint for organizational resilience in the wake of significant business disruptions. It addresses all factors necessary for an organization to continue operations following such an event. That includes data safety, facilities management, human safety, risk management, personnel policies, intellectual property, and internal communication procedures.
A business continuity plan should address backup and recovery procedures, offsite data storage, and electronic and physical network access. It should also include a list of all business functions, ranked in priority according to which must be back in operation first.
Once these priorities are established, recovery time objectives (RTO) and recovery point objectives (RPO) should be established for each function. The RTO is the allowable amount of downtime before the function is brought back online, while the RPO is the allowable amount of data loss since the last backup.
Documenting Risks, Roles and Responsibilities
A plan must also include an assessment of potential threats and the identification of strengths and weaknesses across the organization. In addition to technological considerations, the roles and responsibilities of key personnel before, during, and after an incident should be clarified to ensure that the business continuity plan is properly executed. The final steps involve choosing the best model and solution to meet recovery goals and maintain security, and educate staff about the procedures to follow in case of an outage.
Having a plan is essential, but you need to test your plans to ensure everyone knows what to do. Review your plans regularly with managers and team members, and conduct periodic disaster simulations and tabletop exercises to ensure everyone understands their roles and responsibilities. Revise the plan whenever you incorporate significant changes to your operational or technology infrastructure.
How to Take the Next Step
IT environments are becoming more complex as organizations adopt advanced technologies and engage in digital transformation initiatives. The ability to protect and recover mission-critical applications and data becomes increasingly difficult across infrastructures with a mix of virtual, physical, and cloud resources. With this added complexity comes the very real possibility mundane events such as hardware failures, power outages and human error can bring operations to a halt.
A comprehensive business continuity plan can help you prepare for any scenario that could result in downtime or lost data. If you don't have a business continuity plan, or if you lack the time and resources to give it the attention it deserves, give Mainstream a call. We can conduct an in-depth analysis of your disaster preparedness, and customize a plan to increase the likelihood that your organization can quickly bounce back from any disruption.
ABOUT MAINSTREAM TECHNOLOGIES
Mainstream Technologies delivers a full range of technology services in Arkansas and the surrounding region including managed technology services and consulting, custom software development, and cybersecurity services. We also offer industry-leading data center services in our Little Rock facilities. Established in 1996, Mainstream has earned a reputation for delivering quality, reliable, and professional technology services for public and private-sector customers across the United States.
Jeff Pracht
IT Business Development Manager
(479) 715-8629 Office
(501) 529-0008 Mobile