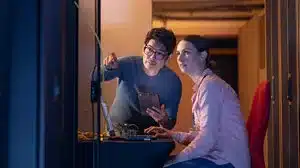 (September 5, 2023) The primary goal of managed services is to keep technology running smoothly and performing optimally to boost your productivity. Happy side effects of managed services include less downtime, more predictable IT costs, and reduced risk of security and compliance issues. However, the benefits of managed services extend far beyond the actual technology, especially for small and midsize enterprises (SMEs) with minimal in-house IT expertise.
By outsourcing IT management and monitoring functions to a managed services provider (MSP), organizations can free up in-house personnel and resources to focus on strategic, revenue-producing initiatives. In this way, managed services can have a direct impact on productivity, which has a direct impact on your bottom line.
How IT Issues Drain Productivity
In many organizations, IT may not be a full-time responsibility that's included in any employee's job title. There is just an "IT guy" people go to with IT-related problems. Every time the IT guy has to put out a fire, his primary job responsibilities go to the back burner, which begins the productivity drain. If the problem can't be fixed with a simple reboot, research will be required. This further drains productivity for the IT guy and the employee who is waiting for a solution to a problem.
More often than not, IT issues go unreported. Like that back pain you feel when you get out of bed every morning, system slowdowns and service disruptions are accepted as a necessary evil. Unfortunately, these IT issues won't go away on their own. But because these daily or even hourly hiccups are accepted as normal, tasks take longer and involve unnecessary steps. Growth opportunities are missed. Customer service suffers. Competitive advantages are lost.
How Managed Services Can Help
The first step to eliminating this productivity drain is to take repetitive, day-to-day IT tasks off your plate. This will free up a considerable amount of time, and many performance issues will be corrected when these tasks are handled promptly and the IT infrastructure is properly monitored.
Managed services allow you to shift from a reactive, "break-fix" approach to proactive maintenance. This reduces the recurring IT problems that make it difficult for employees to do their jobs. Employees can perform tasks more efficiently, respond to customers more quickly and achieve business goals. Instead of holding people back, technology can do what it was intended to do — help the organization boost productivity and do more with less.
According to a recent IT trends report from JumpCloud, 65 percent of SMEs now work with an MSP and 22.5 percent are considering working with one. Slightly more than half (56.5 percent) use an MSP to support their internal IT team, while 43.5 percent fully outsource their IT program. This speaks to some of the benefits that managed services provide to SMEs.
How to Maximize Success
The key is to find a managed services provider (MSP) whose focus is to maximize business productivity, not just handle your IT functions. The right MSP will take time to learn about your business challenges and objectives instead of presenting a generic service plan. They'll communicate with you frequently — at least every quarter — to review IT performance metrics and get your feedback.
A best-in-class MSP will also help you create a roadmap for scaling the IT environment to grow with your business. Instead of sapping productivity, technology will give you the flexibility to capitalize on business opportunities.
At Mainstream, all of our IT solutions are designed to maximize productivity by enabling your team to work without interruption. Let us show you how our managed services provide a cost-effective way to avoid disruptions and move your business forward.
ABOUT MAINSTREAM TECHNOLOGIES
Mainstream Technologies delivers a full range of technology services in Arkansas and the surrounding region including managed technology services and consulting, custom software development and cybersecurity services. We also offer industry-leading data center services in our Little Rock facilities. Established in 1996, Mainstream has earned a reputation for delivering quality, reliable, and professional technology services for public and private-sector customers across the United States.
Jeff Pracht
IT Business Development Manager
(479) 715-8629 Office
(501) 529-0008 Mobile
Contact Us