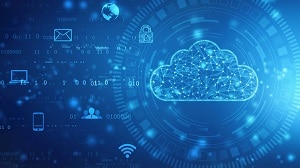 (July 2020) There are plenty of downsides to maintaining IT equipment onsite. Power, cooling, property taxes, hardware, software, maintenance, and staffing costs add up in a hurry. Few organizations can justify fully equipping their on-premises data center facility with redundant infrastructure to ensure 24×7 operations.
Many organizations have shifted IT workloads to the cloud in an effort to reduce costs and management complexity while increasing scalability, agility, and flexibility. Yet despite some of the cloud's proven benefits, it isn't always the best choice for every company or every workload.
Organizations worry about maintaining control of sensitive data in a cloud environment owned and operated by a third-party provider. The concerns are legitimate. Data security isn't necessarily the cloud provider's primary concern. In many instances, security features are costly add-ons that the customer is responsible for configuring and implementing. If data loss were to occur, backup and recovery times can be inconsistent, depending on the provider's network connections. You may not even be able to access your data if you lose Internet access at your primary site.
Mainstream Technologies offers several alternative solutions that create an essential middle path. Our co-location, managed co-location and virtual private server offerings are delivered through our state-of-the-art data center, combining the security and easy access of local infrastructure and the strategic, operational and financial benefits of the cloud.
Colocation
With Mainstream's Colocation Services you rent data center space for servers, storage, and other computing hardware that you own, which gives you control over the equipment. Our Colocation Services include all the power, cooling, and physical security you need, as well as established connections to a variety of telecommunications and network service providers. They can also provide peace of mind as it features redundant uninterrupted power supplies (UPS), cooling systems, and network bandwidth.
Support services include "remote hands" services for basic tasks such as rebooting servers, reconnecting cables, and responding to alerts. We also offer "smart hands" services for more complex tasks such as server provisioning, configuration changes and circuit testing.
Managed Colocation
While colocation relieves you of many operational burdens, you remain responsible for managing and maintaining your equipment. In a Managed Colo arrangement, Mainstream's data center team assume those responsibilities for a predictable monthly fee.
We deliver enhanced security and compliance by ensuring that proper security measures are implemented and updated. Patch management, antivirus updates, and firewall monitoring are among the critical tasks your staff can offload.
Virtual Private Servers
This approach relieves you of the need to purchase and own your own servers and storage. Instead, you simply pay a monthly subscription fee to access virtual server instances in our data center. It's the functional equivalent of a dedicated physical server, but with the cost and maintenance benefits of a virtual machine.
The Mainstream Advantage
With our data center services, local customers never have to worry about where their data is physically located — it's right here in our downtown Little Rock data center. The facility is SOC 2 Type 2 certified, which means our availability and security processes are independently verified to be working, effective and meeting a high standard for information security. We offer advanced physical security, including 24×7 closed-circuit camera monitoring with DVR recordings of all entrances, aisles, and racks. The facility has proximity badge and biometric security on all outside entrances.
These services are all great choices for organizations that don't want to operate an on-premises data center but still want to have more control over their sensitive data than the public cloud allows. Call us to learn more about leveraging our data center services to meet your business requirements.
Jeff Pracht
IT Business Development Manager
(479) 715-8629 Office
(501) 529-0008 Mobile