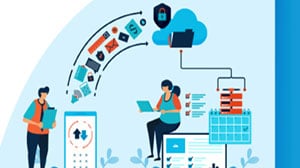 (May 18, 2021) Data backup is arguably one of the most important IT functions, yet many organizations struggle to protect their critical information assets. Backup failures put business processes at risk and hinder IT initiatives.
In a recent quantitative research study conducted by Vanson Bourne, 58 percent of IT decision-makers said their organization's backups fail regularly. Additionally, 76 percent say there's a "protection gap" between the frequency of data backups and the amount of data they can afford to lose. Fourteen percent of data is not backed up at all.
Data recovery is another challenge. Eighty percent of organizations have an "availability gap" between how quickly they need to recover data and how fast they are able to recover it.
Ultimately, inadequate backup and recovery capabilities can hamper an organization's ability to modernize its IT environment. Operational complexity, dependence on legacy systems, and lack of in-house IT skills are the top impediments to digital transformation.
Moving to the Cloud
IT leaders are recognizing these deficiencies and looking to update their backup solutions. By 2023, 46 percent of survey respondents plan to migrate from on-premises backup to cloud-based Backup-as-a-Service (BaaS). The No. 1 objective is to improve reliability, cited by 31 percent of respondents. Another top driver is economics, cited by 22 percent, as organizations look to reduce total cost of ownership (TCO) and improve ROI.
The shift to BaaS is part of a larger migration to the cloud. By 2023, half of production workloads will be hosted in the public cloud as organizations seek to reduce the footprint of their on-premises infrastructure. The hybrid IT environment is requiring many organizations to redesign their data protection strategy.
Cloud-based backup can also address the increasing complexity of traditional data protection processes. In many organizations, IT teams must administer 10 or more devices for storage, backup, and disaster recovery, each of which has its own management interface. Backup processes consume a significant amount of IT staff time.
A Hybrid Approach
One of the drawbacks of BaaS is backup and recovery speed — performance is dictated by the customer's Internet connection. A better approach is to combine on-premises backup appliances with replication to the cloud. Automatic verification processes ensure data is protected and replicated successfully. Customers can restore files directly from the on-premises appliance if needed to speed up the recovery process.
Software agents are used to creating an image of the systems to be backed up. The BaaS solution then conducts incremental backups at the specified frequency. Downtime is minimized because the system can be restored quickly without the need to install and configure applications and recover individual data files. Some solutions also allow the customer to use the BaaS provider's data center as a failover site in the event of a disaster.
Fully Managed Solution
Fully managed cloud backup is an even better option to protect from backup failures. Organizations gain all the benefits of BaaS while offloading the administrative burden to the cloud provider. This is particularly beneficial for organizations that are supporting large numbers of work-from-home users. The BaaS solution can help protect vital data that's now stored on remote endpoints while freeing in-house IT staff to focus on other responsibilities.
Backup failures put your business at risk. Data backup is a mission-critical IT function, yet many organizations lack an effective strategy for data protection. This puts them at risk of downtime and data loss and limits their ability to take advantage of advanced IT solutions. By adopting a fully managed, cloud-based solution, organizations can reduce IT operational overhead while ensuring that systems, applications, and data can be recovered quickly if needed.
ABOUT MAINSTREAM TECHNOLOGIES
Mainstream Technologies delivers a full range of technology services in Arkansas and the surrounding region including managed technology services and consulting custom software development and cybersecurity services. We also offer industry-leading data center services in our Little Rock facilities. Established in 1996, Mainstream has earned a reputation for delivering quality, reliable, and professional technology services for public and private-sector customers across the United States.
Jeff Pracht
IT Business Development Manager
(479) 715-8629 Office
(501) 529-0008 Mobile