A look at multiple options for closing the gaps in data backup operations.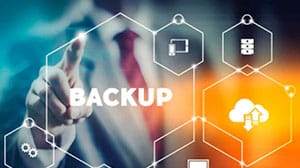 (September 16, 2022) Today's increasingly distributed work environments create new backup challenges for already complicated data backup processes. With more data — and more types of data — being generated and stored across multiple data centers, cloud platforms and endpoint devices, the vast majority of companies are dealing with significant gaps in their backup operations.
Various studies paint a grim picture: Nearly 60 percent of companies don't conduct daily backups; 10 percent never back up business data; 37 percent of backups fail; 75 percent suffered downtime and data loss in 2021.
"Many companies expect to relieve themselves of a good deal of the backup burden as they use more cloud-based resources. That's a dangerous misconception," said Mark McClelland, co-founder and vice president of Mainstream Technologies.
Shared Responsibility
Cloud-based Software-as-a-Service (SaaS) solutions offer many business benefits, but data backup isn't always one of them. In fact, one study found that 70 percent of businesses have experienced unrecoverable data loss in SaaS applications.
Such events are largely due to persistent confusion about who is responsible for protecting data in the cloud. More than a third of organizations surveyed recently by the Enterprise Strategy Group reported they never back up their SaaS data because they believe the provider has that covered. That has never been true.
"Cloud providers operate on a shared responsibility model," McClelland said. "Generally speaking, they will protect their applications and infrastructure, but customers must safeguard their own data. When data is compromised due to human error, viruses, malware or power failures, companies must be able to restore those assets on demand."
Provider Limits
Microsoft's service-level agreement spells this out plainly: "All online services suffer occasional disruptions and outages, and Microsoft is not liable for any disruption or loss you may suffer as a result." Google's agreement has similar language, noting that it guarantees 99.9 percent availability of Workspace products "but that is not a guarantee that your data is protected."
Most SaaS providers do offer tools that reduce risk in these areas. For example, Microsoft 365 customers have a 30-day window to recover accidentally deleted Teams files and other assets, and users can adjust application configurations to retain files indefinitely. Google Workspace also offers a 30-day window for retrieving customer-deleted files.
"These features are useful, but they still leave gaps in data protection, data retention, and regulatory compliance," said McClelland. "For example, Microsoft 365 and Google Workspace don't support point-in-time data restoration or allow you to separate security roles for different folders and mailboxes."
Third-Party Solutions
There are several different ways to enhance SaaS backup. Third-party backup solutions designed specifically for the cloud offer a solid approach. In fact, Microsoft, Salesforce, and many other SaaS vendors actively recommend this approach to ensure critical data is protected and is always available for restore. Veeam, Datto, Commvault, Cohesity, Acronis, Backupify, SolarWinds, and Spanning are among the more robust solutions in the $10 billion market.
Third-party solutions typically have no time limits for data retention, and they provide data isolation and enable role-based access controls and auditing capabilities. Many also streamline the entire backup operation through integration with on-premises backup solutions, providing centralized management across physical and virtual on-premises assets, endpoint devices, and SaaS applications.
Third-party apps do have some important limitations, however. They are typically designed to work with specific SaaS products, so products used to back up Microsoft workloads may not work well with Google or Salesforce products. Organizations using multiple SaaS applications and cloud platforms may need an assortment of backup apps, which only introduces additional complexity to the process.
Backup-as-a-Service
Another option is cloud-based Backup-as-a-Service (BaaS) for SaaS application data. The obvious selling point is that BaaS solutions eliminate capital expenditures for on-premises hardware and management software.
BaaS solutions collect, compress and encrypt data from SaaS applications, remote endpoints, and on-premises servers and transfer it to cloud-based storage managed by a third-party provider. BaaS solutions also support a hybrid backup environment in which companies save data locally to an onsite appliance which then synchronizes with cloud storage targets.
"BaaS improves backup reliability by automating a host of manual processes," McClelland said. "Backups occur automatically based on user scheduling preferences, and data is automatically compressed, deduplicated, and encrypted. Automated testing features provide assurance that application data can be recovered if there is a disruption."
There are challenges, however. Restoring data from the cloud can be slow due to bandwidth limitations. Another potential issue is data commingling. Because most cloud providers use shared infrastructure, data from multiple customers may reside on the same servers. Commingling data on a single server can drive down storage costs, but it can also introduce privacy risks.
Managed Backup Services
Smaller organizations with IT staff limitations may be better served with a managed backup solution that allows them to offload backup operations to a third-party provider with the necessary infrastructure, expertise, and resources. Qualified providers will already have all the tools necessary to orchestrate backup processes across multiple SaaS providers.
"Working with a provider ensures there are no lapses in backup operations," said McClelland. "Qualified providers such as Mainstream will conduct one or more automated backups, and many allow customers to run additional on-demand backups at any time. We also regularly test backups to ensure they are working properly and can be readily restored if necessary."
The important thing is for organizations to put some sort of backup solution in place. Whether onsite, cloud-based or managed backup will help ensure that critical data is not lost.
ABOUT MAINSTREAM TECHNOLOGIES
Mainstream Technologies delivers a full range of technology services in Arkansas and the surrounding region including managed technology services and consulting custom software development and cybersecurity services. We also offer industry-leading data center services in our Little Rock facilities. Established in 1996, Mainstream has earned a reputation for delivering quality, reliable, and professional technology services for public and private-sector customers across the United States.
Jeff Pracht
IT Business Development Manager
(479) 715-8629 Office
(501) 529-0008 Mobile