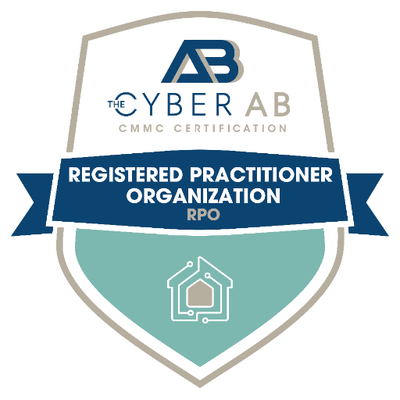 Are you interested in becoming a contractor for the Department of Defense (DoD)?  Did you know that you cannot submit a bid until your organization is CMMC compliant?  Are you ready?  Do you know what is required to be compliant?
The Cybersecurity Maturity Model Certification [CMMC] was designed so that DOD contractors can verify that they are compliant with mandatory information security requirements as it relates to the processing, transmitting, or storing of sensitive data.
A common misconception is that CMMC compliance is a matter of self-certification — as easy as flipping a switch. However, the reality is it requires a lot of rigor and, unless you're prepared, you may be disappointed as you navigate through the process of becoming compliant only to find out that someone else has already won the contract!
CMMC often requires a third-party assessment depending on the classification of information being handled. CMMC is organized by three maturity levels with larger contracts associated with higher maturity:
Level 1: Foundational, can be achieved with an annual self-assessment that focuses on safeguarding Federal Contract Information (FCI).
Level 2: Advanced, involves triennial third-party assessments for critical national security information that focuses on the protection of Controlled Unclassified Information (CUI)
Level 3: Expert, involves triennial government-led assessments and focuses on the enhanced protection of Controlled Unclassified Information (CUI).
According to Chad Causey, Principal of Rose Group Advisors and a Member of the Rose Law Firm: "Companies willing to put in the required work to gain CMMC readiness could be rewarded. Most in the industry believe CMM Certification will be required in the near future. Many companies may be late to the requirements and risk losing valuable contracts. CMMC is certainly on its way, [and] companies who get ahead of the curve could be rewarded with new contracts where other suppliers fail to take the necessary steps in time."
What does it take to be ready?
For starters, we must understand that CMMC compliance is a process. Levels that require third-party assessments can add logistical complications. You cannot expect to schedule an assessment and have it completed the next day. You will have to schedule an assessor for a site visit, and since they are in demand and dispersed throughout the U.S., it may take some time. The process is also complicated by the fact that some questions may take up to 30 days to provide a response!
Once the assessor arrives and conducts their assessment over several days, the result is a pass or fail. If you are unprepared, you are likely to face a failing score which will require more time to remedy the shortcoming and increase the likelihood that the contract has already been awarded to someone else!
It doesn't take long to do an assessment, but it does take a long time to become compliant! A proactive approach to CMMC is to conduct a readiness assessment of your IT assets to pinpoint weaknesses and make the necessary improvements before the latest round of bids arrives in your inbox! Mainstream Technologies, Inc., is a CMMC Registered Provider Organization and can help you prepare for a CMMC Assessment.
Resources:
Level 1: Read more on self-assessments [NIST SP 800-171 DoD Assessment Methodology]
Level 2: "Advanced" level (Level 2) will be equivalent to the NIST SP 800-171.
Level 3: "Expert" level (Level 3), currently under development, will be based on a subset of NIST SP 800-172 requirements.
SUMMARY
CMMC compliance is a process that demands rigorous preparedness, as only the compliance-ready are allowed to submit bids. It is all about certifying your ability to provide information security related to processing, transmitting, or storing sensitive data.
A readiness assessment of your IT infrastructure by a certified CMMC RPO can go a long way to adding peace of mind and valuable contracts for your business! If you would like more information on CMMC compliance, please click here.