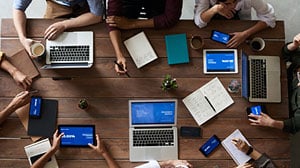 (January 9, 2023) Global IT spending will exceed $4 trillion this year as organizations adopt advanced technologies to help them remain competitive in a rapidly evolving technology and business environment. A surprising number of those organizations are likely to experience buyer's remorse, according to a new study.
In a recent Gartner survey, 56 percent of organizations reported a high degree of regret over their largest tech-related purchases over the past two years. Most of them have a dozen or more people involved in the decision-making process, leading to internal conflicts about objectives for the purchase. Many also have high levels of internal resistance to change and tend to delay purchases while wrangling over relatively minor decisions.
Managed services arrangements can avert many of these challenges. Qualified managed services providers (MSPs) can help organizations evaluate various technologies and determine which ones can deliver the most value. Because they work with clients of various sizes and in a wide range of industries, they have seen what works and what doesn't in real-world environments.
MSPs can speed the deployment of sophisticated solutions to improve time to value and drive growth and deliver services that many organizations are unable to achieve on their own. Providers typically have access to best-in-class tools and processes that they can leverage on behalf of their clients. In addition, MSPs have highly skilled staff who are experts in managing complex technologies.
"Many organizations struggle with technology decisions, which leads to wasted time and resources, frustration, and even a failure to capitalize on business opportunities," said Mark McClelland, co-founder and vice president of Mainstream Technologies. "By partnering with an MSP, organizations can gain valuable insight along with technical expertise. The right MSP can help you get the most value for your investment and ensure that your IT environment keeps delivering value over the long term."
Here are just some of the ways an MSP can help with technology decision-making and implementation.
Supporting Modernization
Network modernization is a key area in which MSPs can help. It is estimated that nearly three-quarters of U.S. companies are now using Software-defined WAN (SD-WAN) solutions to facilitate network connectivity to mass numbers of mobile and remote employees. However, these solutions require specialized expertise in WAN optimization, traffic steering, telecom services, and more. More MSPs now offer fully managed SD-WAN solutions that deliver all the benefits with none of the management headaches.
Many MSPs can also assist with application modernization. Whether migrating old apps to the cloud, switching to cloud-native apps, or developing new custom apps, modernization is a time-consuming process requiring special skills. Leading MSPs have the expertise in software development and cloud platforms necessary to make changes that support the business, improve efficiency and enhance security.
Assisting with Digital Transformation
Cost reduction remains among the key benefits of managed services — Deloitte analysts say managed services can reduce IT costs by 40 percent by reducing infrastructure and staffing expenses. However, cost reduction is no longer the primary driver for managed services. Many organizations are now primarily concerned with finding a strategic partner to support their digital transformation efforts with cloud migrations, data analytics, process automation, supply chain management, and other advanced services.
Moving apps and services to the cloud help provide the agility and flexibility that are necessary for digital transformation. In a recent Cloud Guru study, however, more than 80 percent of IT leaders said that a lack of in-house knowledge and skills has become a barrier to cloud success. MSPs have expertise with specific cloud environments, such as hybrid cloud and multi-cloud, or specific projects, such as migration, cloud cost management, performance optimization, security, and compliance.
Providing AI/ML Expertise
Artificial intelligence (AI) and machine learning (ML) are areas where MSPs are increasingly proving their value. While organizations are eager to exploit these technologies, they've had little luck on their own. In a study from Vanson Bourne, 93 percent of U.S. and U.K. businesses consider AI and ML projects to be business priorities, but 51 percent acknowledged they don't have the in-house talent to bring their strategies to life. That contributes to a high failure rate for these projects. According to two recent Gartner reports, 85 percent of AI and ML projects fail to deliver expected benefits and only 53 percent make it from prototype to production.
Meanwhile, managed services providers have been steadily investing in the tools and expertise required to add AI, ML, and other premium services to their traditional services, such as network monitoring and administration and device management. Providers can work with customers to plan, design, build, manage and optimize AI/ML solutions. In particular, MSPs can help organizations collect data and monitor key performance indicators.
"Choice-overwhelmed customers need help determining the best solution for their business needs out of hundreds of look-the-same, sound-the-same online marketplace applications offerings," said Carolyn April, senior director of industry analysis at CompTIA. "An MSP's consulting influence can cement a trust and stickiness with customers that can be both lucrative and valuable."
ABOUT MAINSTREAM TECHNOLOGIES
Mainstream Technologies delivers a full range of technology services in Arkansas and the surrounding region including managed technology services and consulting, custom software development, and cybersecurity services. We also offer industry-leading data center services in our Little Rock facilities. Established in 1996, Mainstream has earned a reputation for delivering quality, reliable, and professional technology services for public and private-sector customers across the United States.
Jeff Pracht
IT Business Development Manager
(479) 715-8629 Office
(501) 529-0008 Mobile