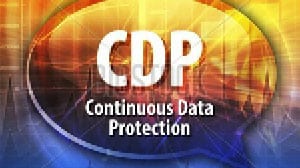 (September 13, 2022) Traditionally, organizations have backed up data during nightly "backup windows" when systems aren't in use. Those legacy backup practices no longer provide adequate data protection.
If data is backed up every night at, say, midnight, 24 hours elapse before it's backed up again. With today's 24×7 business operations, the data could change dramatically during that time. In a worst-case scenario, a ransomware attack would occur at 11:59 p.m., and all that day's data would be lost. If data is backed up less frequently, the backup gap increases.
The High Risk of Data Loss
According to a new IDC study, this is a very real threat. IDC surveyed more than 500 IT and business leaders from midsize to large enterprises in North America and Western Europe for its "The State of Ransomware and Disaster Preparedness: 2022" report. Almost all (93 percent) said their organization suffered a data-related business disruption in the preceding 12 months, with more than two-thirds (68 percent) experiencing four or more disruptions.
During that time, organizations reported an average of 2.3 ransomware attacks, with 49 percent activating their disaster recovery plans in response. However, 83 percent reported data corruption as a result of at least one attack. Not surprisingly, only 28 percent said they were completely confident they could recover data from their backup system.
The Need for Continuous Data Protection
In light of these risks, IDC recommends that organizations adopt a continuous data protection (CDP) strategy. The research firm notes that CDP can "significantly reduce the potential for data loss, regardless of cause, while reducing the time to recovery and simplifying recovery."
True CDP solutions back up data every time a change is made, essentially eliminating the concept of the backup window. Organizations can achieve a zero recovery point objective (RPO) — the amount of data loss that's considered acceptable when a system failure or other disruption occurs. There are also near CDP solutions that back up data so frequently that RPO is close to zero.
Closing the Gap
CDP eliminates the backup gap and better protects an organization's most recent data, which is typically its most valuable data. This makes CDP a powerful hedge against ransomware and other cyberattacks along with malicious and accidental deletions. It can also help organizations achieve compliance with increasingly stringent data protection regulations.
Because CDP maintains a continuous journal of data changes, administrators can restore data at any point. If a ransomware attack occurs at 11:59, for example, data can be recovered as it existed at 11:58. Multiple versions of each file are saved, making it possible to roll back to a previous version if needed. The journal also aids in audit reporting and security incident investigations.
Deploying CDP
CDP solutions can be deployed on-premises or in the cloud, and data can be replicated offsite or to the cloud for an extra layer of protection. Organizations can back up applications, databases and files, and restore data directly to production environments.
There are downsides. CDP solutions require very fast, highly scalable storage, which may require significant investments in hardware. Data throughput is effectively doubled since every change must be saved to backup. This increases the load on systems protected by CDP, potentially causing stability or performance problems. CDP can also create a single point of failure.
Given the risks, however, CDP is often the right choice for an organization's most critical systems and data. By backing up data continuously, organizations can leave the backup window behind and gain the peace of mind that they can recover data up to the moment a disruptive event occurred.
ABOUT MAINSTREAM TECHNOLOGIES
Mainstream Technologies delivers a full range of technology services in Arkansas and the surrounding region including managed technology States services and consulting custom software development and cybersecurity services. We also offer industry-leading data center services in our Little Rock facilities. Established in 1996, Mainstream has earned a reputation for delivering quality, reliable, and professional technology services for public and private-sector customers across the United.
Jeff Pracht
IT Business Development Manager
(479) 715-8629 Office
(501) 529-0008 Mobile