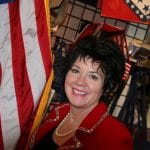 "Arkansas Flag and Banner sells products both from our physical and our virtual stores.  We sell quality products, expertise, and good service.  The flag and banner business is a very specialized industry and we make every effort to make sure we give our clients exactly what they need.
We've used Mainstream Technologies for more than10 years now because they give us excellent advice about what we need to do with regard to our hardware and network infrastructure.    They've never tried to oversell me and have always worked within my budget.  We love these guys because they've protected us through the years!
We've grown to the point that we now have four servers in our office.  They manage our systems remotely as well as support our desktops.   Daniel Weatherly is a big reason we use Mainstream Technologies because he is the calmest, patient, straightforward, and no-nonsense person we've ever dealt with.
We feel that MT has trained us well.  They are similar to a doctor.  They diagnose the problem and give us options so we can make an educated decision.
We were skeptical at first but they proved themselves to us over time.  There is a huge value in knowing that there is more than one person who knows my business.  Now our IT is their problem, it's not mine anymore!"