Social Media
There seems to be a lot of people answering questionnaires on Facebook these days and it's a big security risk.
People do not realize that these lists of questions are very similar to the security questions used for resetting your passwords to online accounts. These questions most likely originated from a bad actor and of course they have spread like wildfire..
When you create a login online at a lot of sites, they have you select 3 security questions to help you reset a forgotten password. People who have done these questions online have just given away those keys to anyone who has the ability to troll social media. In many cases that means anyone in the world because many users also do not use correct privacy settings on social media, or they want to be seen by anyone.
Please do not participate and allow these things to proliferate. Also consider posting something like this to warn the people you know.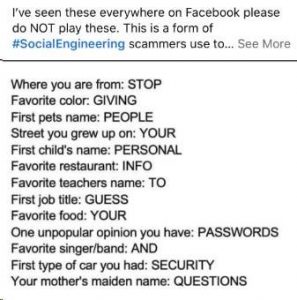 Daniel Weatherly
Director of Security Services
Mainstream Technologies Inc.
501-801-6706